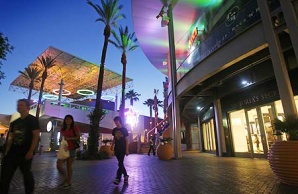 By Max Jarman
THE ARIZONA REPUBLIC
July 14, 2009
Struggling Valley retailers pursue rent relief
Businesses small to large seek concessions from landlords to deal with recession's effects – and they're getting them
Restaurants and retail stores, hit hard by a sharp pullback in consumer spending, are increasingly asking landlords to share their pain.
They are pleading with mall and shopping-center owners to cut their rent and make other concessions to help them survive.
Landlords, who also are struggling with rising vacancies and tight credit, are trying to hold their own. But with the prospect of losing tenants and with new occupants scarce, landlords are increasingly opting to deal.
Rick Murphy, a retail specialist with CB Richard Ellis in Phoenix, estimates that as many as 80 percent of the retail tenants in Valley malls and shopping centers have asked landlords for some form of rent relief over the past few months.
Real-estate departments at retail chains that used to focus on finding new locations are now concentrating on trying to renegotiate leases. Many large tenants have clauses that allow them more favorable terms if occupancy rates in their particular center fall below certain levels.
Judi Butterworth, a retail leasing specialist at De Rito Partners Inc. in Phoenix, said many tenants are looking at the occupancy rates in their centers to see if they are entitled to rent relief.
"Everybody is looking for some way to renegotiate their leases," Butterworth said.
Valley retailers have been particularly hurt by the severity of the area's housing bust and by rising unemployment.
"Phoenix got hit harder than most, but it's basically a national phenomenon," Butterworth said.
Megan Woodley, owner of Cameo Cleaners, believes foreclosures in the Anthem area have hurt her business.
"We don't have near as many customers as we did," she said.
"We've been calling customers in our database and many of them have lost their jobs, their homes and moved away."
Their hardships are shared by retailers across the country, who also are moving in droves to renegotiate lease terms.
Tenants looking for cheaper rent range from national tenants such as Starbucks, Blockbuster, and Pier 1 Imports to mom-and-pop businesses such as Cameo Cleaners in north Phoenix and Urban Angels in Tempe.
Rob Tomlinson, a retail leasing specialist with PICOR Commercial Real Estate in Tucson, expects to see the number of tenant requests continue to increase before tapering off later this year.
Some are legitimate hardship cases, such as Blockbuster. Others, such as 7-Eleven stores and Gap Inc., may be seizing the opportunity to reduce costs, he said.
"There is a lot of opportunism," Tomlinson said.
Great Clips franchisee Tom Allen is negotiating to reduce rent at four of his 10 Phoenix-area locations.
"Those are the ones that are really hurting," he said, noting his sales have dropped considerably as cash-strapped customers extend the time between haircuts and even try cutting their hair at home.
The situation is particularly severe at his Anthem Marketplace store, which Allen says he will have to close if he can't get some rent relief.
Allen and a handful of other tenants turned to Phoenix real-estate broker Tom Lackman to help with landlord negotiations. He is one of a growing number of agents who now are specializing in such tenant/landlord negotiations.
Earlier this year, Lackman formed ReduceYourRent.com and so far has garnered a number of clients.
But shopping-center owners have proven to be tough negotiators. "Landlords have been very resistant," Lackman said. "They forget that tenants are their customers."
At Anthem Marketplace, owner Regency Centers Corp. of Denver hasn't budged. After receiving tenant documentation of recession-related hardships, Regency Centers concluded its rents were fair and denied the requests. Regency did not return calls for comment.
For tenants negotiating a new or renewed lease, it's another world.
"Tenants clearly have the advantage in those situations," Butterworth said. They can demand and get lower per-square-foot rates and a variety of other concessions, she said.
At Anthem Marketplace, Allen has started his own negotiations with Regency and is hopeful he will be successful.
A 1,000-square-foot retail space in a good location can cost thousands of dollars a month. Tenants are often asked to pay for the landlord's insurance and for maintenance of common areas.
That can be a tough nut to crack for businesses hammered by the recession.
At Tempe Marketplace, a proposed increase of the common-area maintenance fees to $12 from $3 per square foot has tenants up in arms.
"The increase came out of nowhere," said Anup Narsi, a partner in Genghis Grill, a restaurant at the shopping center. He noted that he has laid off employees and made other cost cuts in response to lower sales and says the increase in maintenance fees would bring definite hardship.
Mall owner Vestar Development Co. said the $3 figure was an estimate and actual costs turned out to be much higher.
But landlords are also strapped. They have been hurt by the swift demise of bankrupt chains Mervyns and Circuit City and by belt-tightening closures at Bashas' and other chains around the Valley.
Store closures coupled with an already overbuilt retail market pushed shopping-center vacancy rates to 10.5 percent in the second quarter, which ended June 30. That's up from 6.7 percent in the second quarter a year earlier and 4.5 percent in 2007, according to CB Richard Ellis' quarterly report on the commercial real-estate market.
In northwest Phoenix, Paradise Valley and the Mesa/Chandler/Gilbert areas, vacancy rates are significantly higher for the second quarter. In those areas, new construction and store closures have boosted vacancies to 14.5 percent, 12.7 percent, and 11.6 percent, respectively, in the second quarter. And the vacancy rate is expected to continue to rise. Nationally, the rate is projected to rise to 12.2 percent from 9.7 percent by the end of the year and climb to 15.8 percent in 2010.
"We're all in a difficult situation," De Rito Partners CEO Marty De Rito said. His firm owns shopping centers such as Scottsdale Pavilions and also leases shopping centers for other landlords
Earlier this year, General Growth Properties, owner of the Arizona Center in downtown Phoenix and the Tucson Mall in Tucson, filed for Chapter 11 bankruptcy reorganization.
Many retail developers are heavily in debt after a decade-long building boom and unable to refinance their loans. In those cases, landlords are unable to consider rent reductions or are prevented from doing so by their lenders.
"Many are too highly leveraged to accommodate these requests," Tomlinson said.
Barring those restrictions, CB Richard Ellis' Murphy said landlords are increasingly willing to negotiate "if it's a matter of retaining or losing a tenant."
But tenants must be prepared to demonstrate the need for rent relief with traffic counts, tax returns, personal financial statements and other documents.
Even then, landlords are reluctant to grant a flat reduction. Instead, they offer temporary deferments with the understanding that the difference in rent amount eventually would be made up.
After a complicated process, Karli Jacobson was able to get a temporary rent deferral for her Urban Angels designer clothing store at Tempe Marketplace.
"It took a long time to get done, but it took some of the pressure off," she said.
Jacobson asked landlord Vestar Development Co. for a rent reduction, but was offered an 18-month deferral.
Landlords also may agree to forgo rent increases called for under a lease, adjust common area maintenance fees or take a percentage of sales instead of granting a flat-rate reduction. In many cases, landlords are asking for something in return.
"Once it is determined that a tenant needs its occupancy costs reduced, then it's a compromise," De Rito said.
That could include waiving the right to terminate a lease based on sales results or allowing owners to add more stores to a shopping center.
At the state's largest retail landlord, Westcor, the preference is to find other ways to help a struggling tenant besides reducing their rent. Kim Choukalas, the mall owner's vice president of leasing, said that Westcor screens prospective tenants to make sure they have the financial resources to weather a downturn.