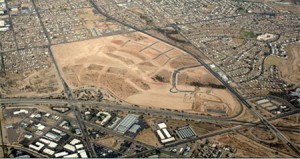 By Roger Yohem
INSIDE TUCSON BUSINESS
May 12, 2011
With Phase I complete, the University of Arizona's 65-acre Bio Park is "development-ready." That milestone has prompted private developers and investors to move forward on their business plans at the massive science and tech venture.
Since breaking ground in December 2009, the focus has been on building the core infrastructure. When Phase II starts in July, the park will "go vertical."
"We're in a challenging economic market. To attract commercial development, we had to make the site development-ready," said Bruce Wright, Associate Vice President for University Research Parks.
"Businesses wanted to see the infrastructure in place before they would do any serious negotiations. We are now in active conversations with a number of perspective tenants."
Phase I focused on the construction of roads, water and sewer, electric and telecom utilities, and supporting services. The costs were funded by $4.7 million in federal grants.
In Phase II, the storm drainage facilities and a road on the western perimeter will be completed.
"By December, we will have the site fully developed and ready to go vertical," said Wright.
The Bio Park is part of The Bridges, a 350-acre master planned community at 36th Street and Kino Parkway. The mixed-use project includes research, retail, residential and recreational components.
With the infrastructure in place, private sector partners such as Eastbourne Properties, Lincoln Property Company, and KB Home have stepped up their marketing "so we can attract tenants at all levels."
"We are in active discussions with a major student housing developer and have been approached by three different hotel developers, including Hyatt and Hilton, to do the hotel conference center," Wright said.
Statewide, there is a lack of commercial space to accommodate bio-tech companies when they relocate and subsequently, require additional space. At the Bio Park, "we're trying to address that need for bio-space and create an environment to support that growth."
Contact reporter Roger Yohem at [email protected] or (520) 295-4254.