By: Rick Kleiner, MBA
TREND Report
September 2011
With the signing of two of the quarter's largest office leases for new space, occupancy at 333 East Wetmore has reached 90%, outpacing the market average of 87.5% and achieving the highest level since Landlord, Pearlmark Real Estate Partners, L.L.C. (formerly Transwestern Investment Company), purchased the property in 2005.
The two leases totaling 21,579 square feet include:
Department of Homeland Security, Office of Inspector General (8,798 SF) – Responsible for conducting and supervising audits, investigations, and inspections relating to the programs and operations of the Department. Tim Pavek with Carpenter Robbins represented GSA/Homeland Security.
Psomas Engineering (12,600 SF) – One of the top-ranked consulting engineering firms in the nation, Psomas serves clients in the transportation, water, site development, federal and energy markets across the Western United States.  Ralph Simmonds and Mark Irvin Commercial Real Estate Services represented Psomas.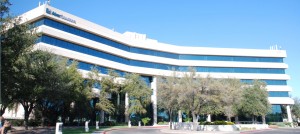 I have served as broker for Pearlmark since they acquired 333 East Wetmore in 2005 and am especially pleased to be part of this success.  The interesting background story to these most recent leases is the manner in which Pearlmark has successfully repositioned the six-story 141,266 square foot property.  Located near Tucson Mall and the upscale foothills residential area and a quick drive from the central business district, 333 East Wetmore holds a unique position in its submarket because of its large 25,000 square foot floor plates and its mid-rise design.  Pearlmark acquired the property as part of a national portfolio purchase from CarrAmerica, and at that time, Qwest held the master lease for the entire building.  However, there were a myriad of sub-tenants and the property was noticeably lacking in continuity.  From the outset, Pearlmark adopted the long-term strategy of repositioning the property for Class A tenants.  With the end of Qwest's master lease in 2007 and the departure of a high-volume call center, Pearlmark undertook significant investment in the property's common areas and amenities.  Key tenants were retained including Qwest (34,500 square feet), URS (10,800 square feet), Forest City Land Group and Dale Carnegie.  In 2009, Aker Business Services leased 52,000 square feet and occupied the top two floors while Brown & Caldwell leased 8,800 square feet.  With the addition of Psomas, the property's tenant mix has a unique concentration of national engineering firms.  On behalf of Pearlmark, we look forward to retaining our outstanding tenants and adding additional tenants of this caliber.
PICOR is Tucson's leading independently owned, full-service commercial real estate company. Founded in 1985, PICOR offers brokerage, consulting, asset and property management for industrial, office, medical, retail, land and investment properties. PICOR's service area encompassesSouthern Arizona andSonora,Mexico. As a member of the Cushman & Wakefield Alliance, PICOR's clients benefit through shared access to Cushman & Wakefield's practices, standardized research methodologies and strategic approaches in providing client solutions.
Chicago-based Pearlmark Real Estate Partners is a principal-oriented, private equity real estate investment firm that pursues domestic, value-added investment strategies through a series of institutional equity fund vehicles. Since its inception in 1996, the firm has made approximately 470 office, industrial, retail, multifamily, and mezzanine loan investments nationwide representing a gross investment of over $11 billion. The current equity portfolio includes 41 office buildings, seven retail properties and two industrial assets totaling over 23.4 million square feet, as well as 15 multifamily assets with approximately 4,100 units. Pearlmark and its partners, including insurance companies, public and private pension funds, foundations and endowments, banks, corporations, and high net worth individuals and families, have committed nearly $4 billion of equity capital to the firm's investment activities. The company currently employs 60 professionals and is based in Chicago with offices in Denver, Los Angeles, and New York City.
Rick Kleiner, MBA, with PICOR since 1995, is a

 Principal specializing in the sale, leasing and investment of office and medical properties. With special emphasis on the real estate needs of the health care industry, Rick focuses on business solutions for medical practitioners and associated services. In 2010, Rick was among PICOR's "Winner's Circle," the company's top three annual producers, and led the Office Division as Top Producer.  Prior to joining PICOR, Rick served as Vice President of Marketing for Up With People.