INSIDE TUCSON BUSINESS
By: Roger Yohem
June 1, 2012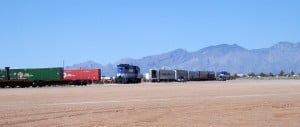 By December, the Port of Tucson's $19 million rail system expansion should be complete. That will enable the freight handler to ship intermodal containers for clients directly to destinations around the world. At a much cheaper price, too.
When cargo is handled less and moved by railway instead of roadway, the results are lower-cost competitive rates. And from a logistics perspective, that may motivate more clients to pick Tucson over Long Beach.
California's Port of Long Beach has become a hellish place for freight management. About 35 percent of all U.S. imports and exports transported by ship go through the ports of Long Beach/Los Angeles. The vast volume causes severe congestion problems.
In addition to loading delays, the port area is plagued with air pollution. Diesel-burning cargo ships, semi-trucks and locomotives idle while waiting to be loaded and unloaded. That chronic congestion is an opportunity for the Port of Tucson, located at Century Park Research Center, just north of Interstate 10 off South Kolb Road.
"It's always been our focus to provide services to become a true inland port, to put us at the head of international shipping. The international component was the key, to transload here instead of Long Beach," said Mike Levin, executive vice president of marketing for the Port of Tucson. "The expansion is very important to our local economy. It makes the whole region more competitive."
"It is a huge attraction for businesses that utilize container-shipping services, to help them expand their opportunities here. They benefit from lower freight rates. Others will relocate here," he added.
Founded in 2004 by Alan Levin, Mike's father, the Port of Tucson provides intermodal and rail services. The 264-acre site is alongside the Union Pacific railroad line, a very strategic logistics location just 70 miles from the border with Mexico.
The port has its own locomotives and long side rails to transload cargo on intermodal rail containers or on/off truck-loading docks. The port has a service contract with Union Pacific to provide intermodal container handling. This provides cross-border cargo options for companies to ship and receive goods and raw materials via container.
The expansion features 20,000 feet of new rail to handle unit trains of 60 to 100 rail cars. In 1,500-foot lengths, the rails were purchased from Union Pacific and currently are being installed.
"Under the current business model, cargo is unloaded at Long Beach and trucked here. The new model will ship intermodal containers directly right on the trains to and from Long Beach to Tucson," Levin said. "We have a commitment from Union Pacific to do this international service, along with pricing direct to Shanghai, China."
"There are companies in the area that want to ship directly to China," he added.
Although Levin would not reveal their rates, he provided an example of the potential savings. The cost to truck a commodity from Nogales to Long Beach is about $1,900. For "way less" than $1,900, the Port of Tucson will be able to ship directly to Shanghai, he said.
The actual container is the port's cargo, not what's inside. Although Levin may not know the specific contents of a shipment, most of the goods are bulk materials such as grains, iron ores, steel, lumber, machinery and parts, and other agricultural and industrial cargo that can be containerized.
Until the expansion is on line, Levin is pursuing more business. The expansion "allows us to reach a new scale of operations for international service." The added capacity should open up new opportunities to take advantage of rail lines that reach Long Beach; Kansas City, El Paso, and Houston to the east; and Mexico to the south,
"For years, there's been a lot of studies and talk about inland ports. With the ability to do international containers, that makes the Port of Tucson a true inland port for the region," Levin said. "It's no longer talk, it's now a reality."
Contact reporter Roger Yohem at [email protected] or (520) 295-4254.
Editor's note: For industrial, warehouse and distribution space available in Century Park Research Center, please contact Russ Hall, C&W | PICOR.