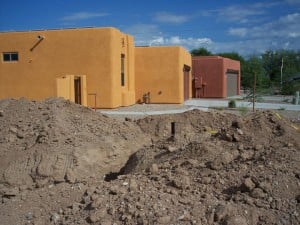 As Southern Arizona's economy slowly climbs out of a horrific recession, hard cash is the new king that reigns over the land empire business. Borrowing money to buy dirt is a non-starter.
For investors, speculators, developers and home builders, the way things were will never be again. Debt is dead as a financing tool.
Following the 2007-2008 collapse of the real estate market, the entire industry has struggled to clean out, stabilize and rebuild balance sheets. Along the way, the industry has invested in cutting-edge technology, comprehensive training and specialty personnel who evaluate vacant land differently than those in the business just five years ago.
"That is the difference now. The big national builders have made the move to invest in younger professionals who are info and tech experts," said Pete Herder, CEO of the Herder Companies, 7440 N. Oracle Road. He has been a builder and land and lot developer for more than 40 years.
Today, those core changes have returned investors and developers to strong financial positions.
"There is so much big money now, these big Wall Street-like and private equity funds are involved. They're the next business generation, so sophisticated in technology. The maverick, 30-year history of speculative land development around here is over," said Will White, Tucson manager of Land Advisors Organization, 3561 E. Sunrise Drive.
"This time around there's fewer meetings. With Web access, they want to be out of a phone call in 30 minutes," he added. "It's not hey good buddy, let's do lunch and a deal. Now, it's get that information to me as fast as you can."
Land Advisors, based in Scottsdale, is the nation's largest brokerage that focuses exclusively on land. It operates in Arizona, California, Colorado, Nevada, Florida, Utah and Texas.
Uncertain 'gray' market
Once the housing bubble burst in 2007, the industry entered a "gray market" of uncertainty. Many speculated and hoped the federal government would step in with a rescue program like the Resolution Trust Corporation (RTC) of the early 1990s. The RTC was formed by the federal government to liquidate troubled real estate assets from failed savings and loan institutions.
"A lot of people in town figured that was going to happen again. Some thought the banks would take back the land assets and just dump them. But no market cycle is the same. Last time, the RTC was where everyone did their land deals. In this cycle, the banks and lenders weren't the main source of deals like everybody thought they would be. Mainly, the home builders owned the finished lots," said White.
Absent the pressure of an RTC-like mandate, some land experts believe the current down cycle has lasted longer than it should have.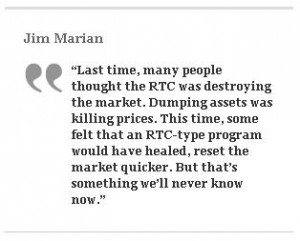 "Last time, many people thought the RTC was destroying the market. Dumping assets was killing prices. This time, some felt that an RTC-type program would have healed, reset the market quicker. But that's something we'll never know now," said Jim Marian, a principal at Chapman Lindsey Commercial Real Estate.
Over the last few years, much of the foreclosed land was picked up by capital companies and private investors. Most of these new "hard money" owners paid cash, a move that provided many future options.
"No debt on land gives them incredible flexibility. They can sell it back to builders. Or do finished lots and sell those. Others will just hold, knowing upward pressure for land is building," Marian said. "Everyone is more optimistic."
The influx of cash owners has brought greater stability to the land market. Going forward, their patience and influence will shake the confusion and uncertainty out of the market.
"Cash buys made the market healthier," Marian said.
"Access to capital is the dominant factor that's now changing development," added Herder.
During the downturn, two national builders exited the Tucson market: Standard Pacific Homes and K. Hovnanian Homes. Hovnanian had held a large financial position in Rancho del Lago in Vail, about 500 lots and a clubhouse, that PulteGroup acquired in 2009 for $8 million.
Most of the national companies that kept a local presence, however, withdrew to Phoenix and operated in Southern Arizona without a division president and a minimal staff.
"It was slow enough all the nationals could have left," said White.
Those that stayed are encouraged by the market's growing stability and have begun implementing their new, more sophisticated long-term business plans for Southern Arizona.
"Each has a different plan and the bigger companies are looking out two years. They have a strategy to keep their market share up. Land is the foundation to all their business plans," White said. "With the builders, it's about who controls the land because if you control the land, you have the ability to do as many homes as you want."
Signs of recovery
Expecting a recovery in 2011, builders acquired about 1,900 lots from mid-2009 through 2010. However, the renewed demand for housing didn't materialize as hoped and just over 1,425 new home permits were issued in 2011. That was the lowest volume since 1,307 permits in 1967.
"2011 was so rough on everyone in land trading because so much land had been bought in anticipation of the market recovering. It didn't happen so they just stopped buying. That's why transactions just fell off the cliff in July of last year," White said.
For all of 2011, national builders purchased just 390 lots in the Tucson region. By the end of the year, however, interest in dirt was starting to turn again.
Through most of 2012, Tucson's economy and real estate market have made slow and steady gains. Incremental improvements, however slight, are holding in the complex economic web of job creation, mortgage rates, new and existing home sales, foreclosures, bankruptcies, and other related financial performa.
"At some point, everyone is going to have to understand that we are recovering. There are too many signals," White said. "More and bigger land deals have been done. People don't walk around and spend eight figures for dirt if they're not confident about the recovery."
Through August, developers and builders have purchased about 875 lots. Since 2009, two of the most active acquirers have been D.R. Horton Homes and Meritage Homes.
"It's not like the old days when builders would just buy land because it was pretty. Today, it has to fit the business plan they are after. They're either after a set amount of lots or a set amount of homes to deliver," White said. "We're seeing multiple bids again for finished lots from builders."
Both Marian and White believe it is possible that total lot sales in 2012 could nearly triple last year's volume of 390.
Going forward, land availability and prices "will get a little dicey," said White. As the new home market strengthens, the supply of land "will drain out. By 2014, we may not be able to deliver enough finished lots to meet consumer demand for housing."
The second part of this report will appear in the Sept. 28 issue and look at how the supply and demand dynamics have changed for developable land and finished lots.
Contact reporter Roger Yohem at [email protected] or (520) 295-4254.