INSIDE TUCSON BUSINESS
BY: Patrick McNamara
November 23, 2012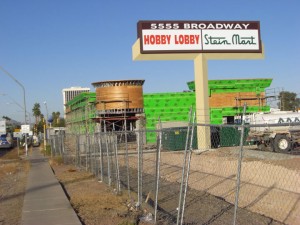 A wave of new retailers coming into the Tucson region could indicate good news for the larger economy.
"I think it's a good sign that retailers are beginning to look at Tucson in a good light," said Marshall Vest, director of the Economic and Business Research Center at the University of Arizona's Eller College of Management.
Retailers that have made a push into the Tucson market include new arrivals Hobby Lobby, Curacao and Conn's. Existing retailers expanding with additional stores include Stein Mart and Mattress Firm.
"Now that the recession is over, we're getting back on our expansion plan and we're heading west," said Mike Poppe, CEO of Conn's, which is based in Beaumont, Texas.
The electronics and furniture retailer is remodeling a store at the southeast corner of Broadway and Craycroft Road that had been vacant since Circuit City liquidated and closed in early 2009.
Poppe said the demographics of the Tucson region played a part in the company's plan to enter the market.
The company seeks out markets in racially diverse areas where many people earn from $40,000 to $50,000 annually, Poppe said. That makes Tucson a prime location for Conn's to expand.
Conn's recently opened stores in Albuquerque, N.M., and in Oklahoma, branching out from its Southern strongholds in Texas and Louisiana.
Poppe and Conn's president of retail David Trahan said the company also does much of its business through financing, which likely would be true at its Tucson location as well.
They plan to have the Conn's store opened by Dec. 1. The company also intends to have a second store in Tucson as well as multiple stores in the Phoenix area.
Also at the Broadway and Craycroft intersection, redevelopment work at another long-shuttered store continues. Remodeling of the former Mervyn's store has already resulted in the opening of Tucson's second Stein Mart store, which opened Nov. 16. The remaining portion of the building will become a Hobby Lobby, a home crafts store new to the Tucson market. The redevelopment at the site also includes new space for retail pads facing Broadway.
Another retailer making its presence known in the region is Mattress Firm. The Houston-based bedding outlet has opened five Tucson stores in the past year.
In addition to the newcomers, retailers already established in the region have begun to expand their footprints here. Walmart, for instance, recently opened a Supercenter at Park Avenue and 36th Street in The Bridges development and has begun site work at a long-anticipated store in El Con Mall, 3601 E. Broadway. The company is building another Supercenter at Houghton and Golf Links roads.
In addition to the Supercenters, Walmart Neighborhood Market is planning to add five Tucson locations to the five it already has in the market.
Good prices on real estate and the potential for cheap rents help to make the Tucson market a good location, the UA's Vest said.
"They've all no doubt noticed that there are some good deals (on commercial space) in this market," he said.
While the visible signs of an influx of retail shows some positive indications for the economy overall, Vest and his fellow forecasters at "Arizona's Economy," a quarterly report on the state's economy, note the recovery still hasn't reached its full potential here.
"The Arizona economy continues to expand at a painfully slow pace," Vest wrote in the September installment of the publication.
The report noted, however, that overall retail sales were expected to continue to grow at about 5 to 5.5 percent.
The projections for the Tucson area also show continued growth in retail sales — despite recent projections from the state indicating the region would gain just 5,800 jobs by the end of 2013, compared to 93,000 in the Phoenix area — with 2012 ending at $11.9 billion and 2013 at $12.3 billion.
That said, sales tax receipts in Tucson have grown since making a sharp drop in fiscal 2009. Receipts in fiscal 2008 reached a high-point of $196 million, according to city budget documents. Sales tax receipts fell annually in the following fiscal years, when they reached a low-point in 2010 of $166 million.
Sales appear to have picked up in the fiscal 2012, with sales tax revenue reaching $176.7 million.
Nationwide, the retail sector continued to grow slowly as well.
The U.S. Department of Commerce reported this month that retail trade sales were up a modest 3.8 percent from last year at this time. More detailed data is scheduled for release next month, which forecasters say will show a slight decrease in retail sales for October, attributed mostly to the hurricane that damaged much of the Northeast.
Despite continued challenges in the local economy, Vest said there were some positive signs.
The growth in grocery stores, for instance, often precedes office and industrial expansions, he said.
But while Vest and colleagues continue to read the numbers in preparation for the December installment of "Arizona's Economy," the new retailers area a welcome sign if for nothing else than the improvements they have made to many aging shopping centers.
"I think it's really positive that you're seeing renovations to these existing spaces," he said.
Contact reporter Patrick McNamara at [email protected] or (520) 295-4259.