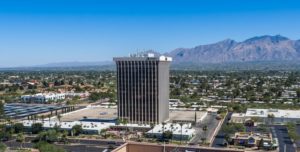 PICOR Commercial Real Estate Services will relocate to 5151 E. Broadway, Suite 115, in January 2018, after 20 years in its current eastside location. Operating as Cushman & Wakefield | PICOR, the company signed a 10-year lease for 10,597 square feet in the single-story offices located at the northeast corner of Broadway and Rosemont Boulevards, formerly occupied by Tucson College. The lease represents an expansion of 3,000 square feet and positions the firm for future growth.
Cushman & Wakefield | PICOR President Barbi Reuter commented, "We're building on our 32-year history in Tucson to create a dynamic, collaborative office space consistent with the vibrant activity in southern Arizona's economy. As an employee-owned service company, we've chosen 5151 E. Broadway for its iconic identity, ease of access for clients and employees, and proximity to submarkets across the city. We look forward to strengthening our already close collaboration with building ownership."
At 257,000 square feet, 5151 E. Broadway is Tucson's largest office building. The project encompasses a 17-story landmark tower and a 62,000-square-foot ground floor plaza and fountain area, with on-site amenities including fitness center and coffee shop. Owner Kent Circle Partners, managed by Seldin Real Estate, Inc., "welcomed Cushman & Wakefield | PICOR's management team to 5151 in early 2016, their leasing team later in the year, and now we welcome their decision to move the entire company into the building," said Scott Seldin. With this latest in a string of new leases, the project's occupancy has increased to 88%. Understanding the importance of workspace on company culture, Kent Circle Partners hired Intertech Architectural Interiors to design the space, Epstein Construction for the build-out, and Cushman & Wakefield | PICOR brought Atmosphere Commercial Interiors and Linda Robinson Design on board for furnishings and interiors. Rick Kleiner, MBA and Tom Nieman, Principals and Office Specialists with Cushman & Wakefield | PICOR, represented the landlord and the tenant in this transaction.