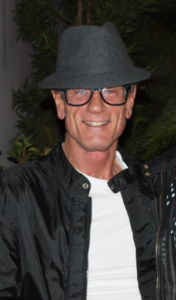 On July 23, 2022, Ron Zimmerman died peacefully in his home in Tucson. The mold was shattered in Camp Hill, Pennsylvania on March 16, 1960, when Ron was born to Bernice Irene "Cookie" Cook and Ronald Eugene Zimmerman. The family moved to Scottsdale in 1961 and then to Albuquerque 10 years later. Ron and his sister Kyle, now an Albuquerque Realtor, grew up in their father's business–the Kelly Motel on Interstate 40 in Albuquerque. Ron was an industrious young man who always had a job and many hobbies. Ron attended the prestigious New Mexico Military Institute beginning at the age of 13, paying his own tuition with the savings from his many odd jobs. Ron asked for permission to both join the Army and get married at the very young age of 16…and as expected, the persuasive young Ron was granted permission from his parents to do both. Ron joined the Army in 1976 and was married the same year. Ron and Alice moved to Anchorage, Alaska where they started a family and had two daughters—Sandy and Shea—who he loved dearly. After Ron's military service, he moved his young family to Pennsylvania where he did the opposite of what everybody told him to do. Ron developed a dozen self-storage facilities and successfully operated them when interest rates were a moderate 18%. Ron acted as his own contractor and successfully brought his projects in under budget, about $21 per square foot. Ron sold the self-storage operation and moved to Tucson with his family. Shortly after arriving in Tucson, Ron built a multi-tenant office building in the Williams Center. During the development of this building, Ron met several brokers at Bourn Partners. Upon disposition of this office building, Ron joined Bourn Partners in 2001 and quickly became a highly successful broker who motivated his fellow brokers and still inspires them today.
Ron joined Cushman & Wakefield | PICOR in 2013 and considered PICOR his family. He had a contagious work ethic and an unparalleled transaction volume. Ron battled significant health issues for decades, beat the odds on many occasions, and appreciated life each day. Ron was a prolific and entertaining storyteller to those around him. He made friends instantly around town–from his clients to the wait staff at his favorite restaurants, he was legendary. Ron drew satisfaction from the beauty of the Sonoran Desert. Even in his most challenging times, Ron hiked with his beloved dogs, often five miles a day. Ron will be missed by his PICOR family and those around him who benefited from his compassion and generosity. PICOR will organize a memorial hike in Ron's honor in October 2022.
Donations may be made in Ron Zimmerman's name to the Humane Society of Southern Arizona or Goodwill Industries of Southern Arizona.