With thanks to countless donors, the PICOR Charitable Foundation ("PCF") awarded a record $72,000 in grants last week. Thanks to generous in-kind community partners and PICOR's corporate underwriting, 100% of the funds raised were granted to youth-serving programs, and many attendees and applicant agencies received complimentary breakfast tickets from the 24th Annual Pancake Breakfast.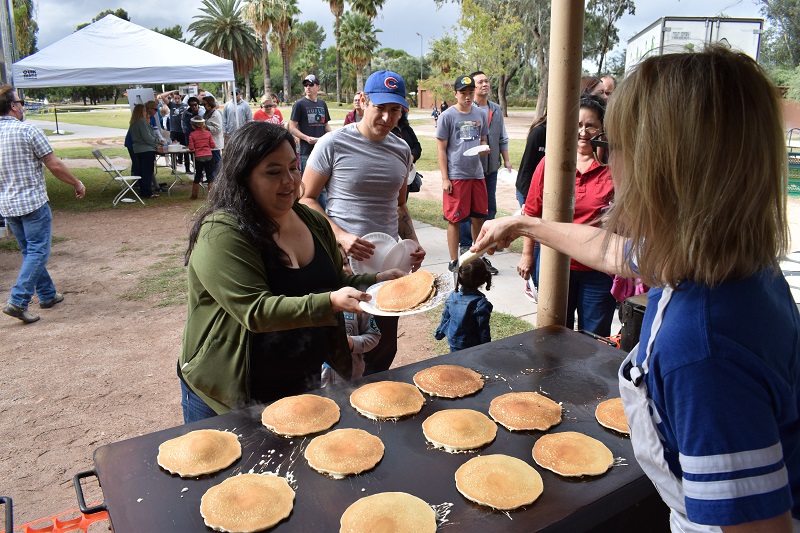 Cushman & Wakefield | PICOR and its foundation remain humbled to continue impactful support of the Tucson region's youth through this annual effort. PCF especially thanks the Burton Family Foundation for their capstone grant.
In its 56-year run, cumulative giving to Tucson youth programs from the Pancake Feed nears $1,200,000. At the 2018 event, the threat of rain did not deter over 1,500 people from partaking in pancakes, sausage, milk, and hot beverages, staffed by Cushman & Wakefield | PICOR, BASIS Tucson North, and Starbucks Arizona's energetic volunteers.
In the weeks leading up to the Pancake Feed, the volunteer committee received 59 grant applications totaling over $146,000 in funding requests for youth-serving programs. In late November, Foundation volunteers selected 38 Tucson-area charities to receive the full $72,000, just in time for the holidays.
PCF strives to reach programs that generally receive less public support, with an emphasis on basic needs. Chosen charities support vulnerable young people with therapies, literacy, clothing, arts exposure, skill building, a path to higher education, and more. 
Grants ranging from $1,000 to $3,000 were awarded to Amphitheater Public School District – McKinney-Vento, Amphitheater Public Schools Foundation, Arizona Friends of Foster Children Foundation, Assistance League of Tucson, Aviva Children's Services, BICAS, Boys & Girls Clubs, Candlelighters Childhood Cancer Foundation, Children's Clinics for Rehabilitative Services, College Application Resource, Diaper Bank of Southern Arizona, Earn to Learn, Educational Enrichment Foundation, El Grupo Youth Cycling, El Rio Foundation, Free Ever After International, Girl Scouts of Southern Arizona, Integrative Touch for Kids, JobPath, Literacy Connects, Make Way for Books, Marana USD Family Resource Center, Our Family Services, Project Linus, Shyann Kindness Project, Southern Arizona Children's Advocacy Ctr, Sunnyside USD Foundation, Teen Outreach Pregnancy Services, Therapeutic Riding of Tucson, Tucson Clean & Beautiful, Tucson Festival of Books, Tucson Girls Chorus, Tu Nidito, YMCA of Southern Arizona, The Youth Corps of America, and Youth on Their Own.
In addition, two STEM-specific "Ken Nickel Memorial Grants" were matched by a $3,000 grant from Cushman & Wakefield | PICOR's corporate support to Boys & Girls Clubs of Tucson and https://www.girlscoutssoaz.org/.
To donate or apply for funds in our 2019 cycle, please visit the PICOR Charitable Foundation page.