Tucson's apartment market experienced positive growth in all of the market indicators from the previous quarter. The vacancy rate for stabilized units improved by 0.56% from the previous quarter to a rate of 6.27%.
Quite positively, 14 of the 15 submarkets posted vacancy rates of 7.3% or lower. The only submarket with a higher vacancy rate is Southeast Tucson, which climbed to 14.29%. Absorption increased 440 units over the previous quarter. Significant occupancy gains are due to students returning to the University of Arizona and Pima Community College. Third quarter marks the eighth consecutive year of positive absorption.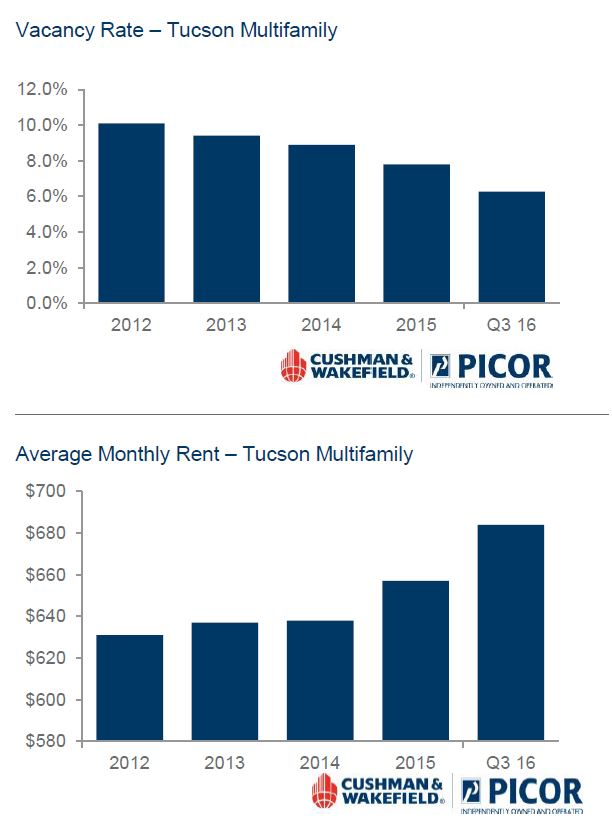 The average monthly gross rent, without utilities, increased $10 (1.48%) to $684 per unit/$0.93 per square foot in the third quarter.
Owners, investors, and managers in the Tucson multi-family apartment marketplace have demonstrated noticeably increased optimism. Many believe significant growth in the Tucson apartment marketplace is just beginning due to a continued focus on bringing new jobs to the region.
Greater Tucson was recently named the third fastest-growing (employment) metro area over 500,000 population by Bloomberg, with year-over-year job growth of 4.2% in July 2016 and total employment of 378,050. The national housing recovery has improved Tucson's prospects for population growth and is expected to spur construction. Arizona was the only state in the U. S. to experience month-over-month construction job gains in July 2016, and was one of three states to report year-over-year construction job growth. Nationally, September consumer confidence was at the highest level since 2007.
Economy
Tucson is gaining attention for all the right reasons on the heels of recognition as a top city for millennials. The food scene has garnered national acclaim after being named the U. S.'s only UNESCO City of Gastronomy. Three Tucson schools were ranked in the top 25 by U.S. News & World Reports.
Tucson's existing businesses, both large and small, have been quietly growing headcounts and have arguably accounted for the region's path to vibrancy over 24 months. Recent hiring and growth announcements will add future positive impact. Planned hiring by Caterpillar (600 jobs), Worldview (448), ADP (400), C3 (1,132), Samsung SmartThings (80), and Tucson Medical Center (61) combine for a forecasted economic impact of over $3 billion. Other announcements have also occurred, with more expected. The momentum is palpable and the outlook is extremely positive for Southern Arizona.
Investment Market
The investor activity is at an all-time high in the Tucson marketplace due to improved market fundamentals and the growing Tucson investor pool has compressed cap rates and increased values for many recent sales. Tucson is a seller's market as inventory remains very low and demand is extremely high.
Many investors express desire to close by year-end over election year uncertainty. Expansion of investor interest is anticipated as Tucson is just beginning to see significant growth.