You know that feeling when exercise elevates your heart rate? Well Tucson is finally feeling it. Over the course of 2016, the Tucson office market moved from having a pulse to having more fun. In 2016, the market posted its strongest post-recession occupancy gains, ending with available vacancy of 10.5%, a level not achieved in seven years.
Improvement is aided by continued restraint in new, speculative construction which will require an extended period of increasing rent to reignite. The year-over-year change represented the largest improvement recorded since tracking the market began in 2005. Absorption for the year of 410,888 square feet (SF) exceeded the prior two years. Activity in 2016 centered in the sectors of medical, behavioral health and financial services.
Sales activity in 2016 reported wide-ranging pricing, cap rates, financing and valuations, primarily due to disparate motivations. As the year drew to a close, the top four closings were by investors, and most user purchases were for medical uses.
Development and re-development continued in downtown Tucson, with the AC Marriott, City Park, and a new vision for La Placita Village. Elsewhere, a 10,000-SF medical office building at Houghton Town Centre began construction for a user and a speculative shell building at Magee Corporate broke ground. Development plans for the former Townsend school site at Craycroft and Grant are underway, anchored by Pima Medical Institute.
Economy
The unemployment rate in Arizona improved a full percentage point in 2016, with education and health services the strongest sectors. Specific to Tucson, job growth was accelerating, with 5,300 net new jobs in 2016, and a projected 7,100 in 2017, and 7,600 in 2018, according to Eller's George Hammond. The U. S. economy's growth rate positively impacted Arizona, as increased mobility is expected to translate to population growth. Statewide housing prices rose 6.7% in 2016, exceeding the national growth rate of 6.1%. Bankruptcies were down 10.5% over the previous year, another positive sign, and consumer sentiment held at cyclical highs.
Outlook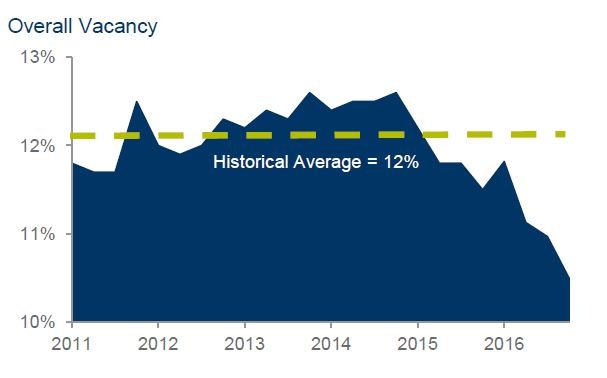 The pace of activity is expected to continue to accelerate thanks to optimism from all stakeholders fueled by both internal expansion and external interest in the Tucson office market. Tightening inventory has resulted in rent pressures in select niche markets. Lease rates are expected to report movement market-wide when vacancy improves to 8.0 or 9.0%. Re-development opportunities will grow to turn around lower-end, Class C buildings. More medical openings will occur in the first quarter, with Tucson Medical Center opening its Rincon Health campus, Health on Broadway downtown with El Rio, and its new Women's Center on the main campus. Lastly, increased activity from legal and financial services is expected to continue in 2017.