The Trend Report, April 2023 Edition 
In the age of digital technology, the way people shop has changed significantly. Online shopping has grown increasingly popular, and many people prefer to shop from the comfort of their own homes rather than in person.
In 2022 e-commerce in the United States exceeded $1 trillion for the first time. Since the early days of e-commerce in the mid-1990s to the present, we have seen a consistent rise in the popularity of online shopping. The ease and convenience of purchasing consumer goods from our computers, tablets, and phones have proven to be an attractive alternative to in-person shopping for many Americans. As we have witnessed our consumers embrace online shopping, the future of in-person shopping in physical locations has been the subject of concern; much of it unfounded. There are benefits and drawbacks to both online and in-person shopping experiences. As our experience with online shopping increases, we are developing an understanding of the balance between online and in-person shopping. Sophisticated retailers now understand that the divide between online and in-person shopping is more perceptual than real. Retailers recognize the benefit that e-commerce brings to conventional bricks and mortar locations and, at the same time, the benefit that physical locations bring to online shopping.
The unexpected introduction of Covid-19 to the world and the US economy was expected to cause a massive change in consumer behavior from in-person retail interactions to online purchases – and it did. According to the US Census Bureau, before Covid-19, e-commerce sales in the United States grew from $390 billion in 2016 to $601 billion in 2019, representing an approximately 54% increase over three years. In 2020, due to Covid-19 restrictions, the growth of e-commerce accelerated dramatically. According to Adobe Analytics, online sales in the United States grew by 42–44% year-over-year in 2020, reaching $861.12 billion in total sales, a record. Online sales experienced a growth rate in one year that was slightly lower than the growth rate observed in the preceding four years. Some said this was the beginning of the end of bricks and mortar as many e-commerce slow adopters were forced to utilize online retail channels and, presumably, not go back to physical stores; that did not happen. Covid-19 pandemic restrictions compelled many consumers to purchase online, but when the restrictions were lifted, the American consumer returned to physical stores in droves. Please see the graph from Digital Commerce 360 (Paul Conley, Feb 17, 2023).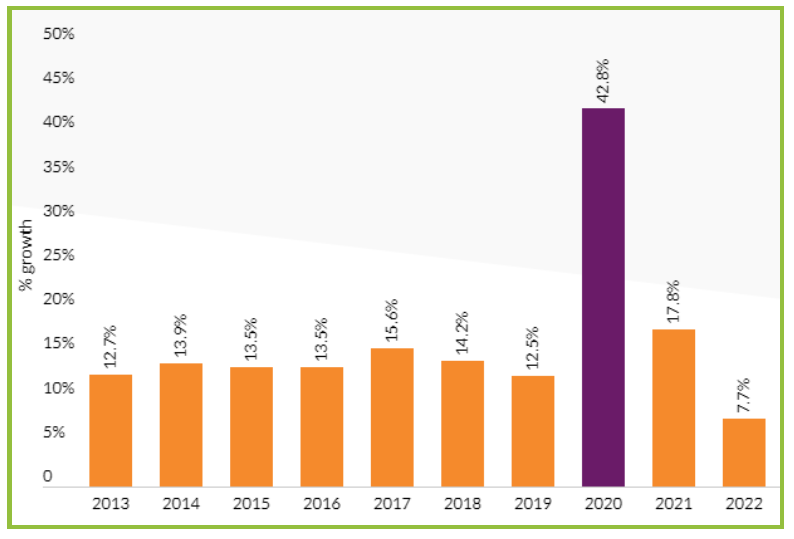 US e-commerce slows to lowest levels in a decade: Year-over-year growth in online sales, 2021–2022.
(Source: Digital Commerce 360, US Department of Commerce retail data; February 2023)
*Total retail figures exclude sales of items not normally purchased online,
such as spending at restaurants, bars, automobiles, gas stations, and fuel dealers. 
While 2022 saw the highest-ever volume of online purchases (+/- $1 trillion), it also showed the slowest increase in overall online retail sales. So why is this happening contrary to many retail pundits' predictions?
Both online shopping and in-person shopping have their respective benefits and drawbacks. Some benefits of e-commerce are convenience regarding the place and time accessibility, product variety (making hard-to-find items easy to locate), and ease of price comparison. Some disadvantages to online shopping are the inability to see or touch the product, fulfillment is delayed by delivery times, and product returns are commonly inconvenient. Additionally, the online experience lacks social interaction and the ability to ask questions of a store clerk or salesperson knowledgeable about the product. Some advantages of the bricks and mortar shopping experience are the opportunity to examine the product firsthand, immediate purchase and fulfillment, as well as the enjoyment of the shopping experience. In a survey of 1,500 U.S. and Canadian consumers, representing four generations of shoppers, the Kearney Consumer Institute found 81% of Gen Z consumers (those born between 1995 to 2010) like to purchase products in-store. Nearly three out of four (74%) Gen Z shoppers said a "well-curated store experience focused on a limited number of products" was necessary.
While online purchases are an increasingly popular form of consumerism in America, e-commerce will only go so far. Some of the drawbacks of e-commerce, such as product returns, the immediacy of fulfillment, and overall consumer experience, are matters that the in-person shopping experience in bricks and mortar stores effectively solves. Some of the issues that face the bricks and mortar consumer experience, such as a variety of product selection, is solved with e-commerce. If a product is not in inventory, it can be purchased to be picked up in the store or delivered. Sophisticated retailers no longer perceive a divide between online and in-person merchandising. They are recognizing the benefits and drawbacks of both merchandising models and blending them into a unified customer-centric strategy to enhance the customer experience.
Source:
Tomlinson, Rob. "CLICKS AND BRICKS: THE CURRENT EVOLUTIONARY STAGE OF MODERN AMERICAN RETAIL." The Trend Report, 19 Mar. 2023, p. 27. https://trendreportaz.com/