There has been much written about the new HomeGoods Tucson distribution center lately. What hasn't been told until now, is the creative brokerage it took by a group of real estate professionals to assemble the land for the HomeGoods Tucson deal to come together.  It really started almost two years earlier, when the Massachusetts-based TJX Companies, HomeGoods' parent company, broadcasted its requirements for a 100-acre site appropriate for a new western regional distribution center to be built.
Rob Glaser, CCIM, SIOR, Principal at Cushman & Wakefield | PICOR credited as the mastermind behind this real estate assemblage told us when he first heard of the requirement it was just his intuition that told him Tucson would be an ideal place for the company.
"Others thought I may have lost my mind," Glaser admitted. "But, I knew we already had the Fed Ex distribution center under construction and the American Tire distribution center right there on Alvernon, so there was no reason HomeGoods wouldn't like the site too, if we could just assemble 100 acres."
An assemblage is a daunting task. A task that took about one year from the time the proposal was submitted until closing.
To start, Glaser had a listing for 7.38 acres, the smallest piece of the assemblage; and needed another 93 more acres. Glaser approached Steve Cohen, Principal with Cushman & Wakefield | PICOR with the idea. Cohen had a 36.83 acre parcel listed at the far end of the 108 acres that Glaser was thinking about, and told Cohen they should assemble the parcels in between.
Cohen told us he was skeptical when first approached, with so many different owners involved. "But Rob was convinced it was an ideal site and convinced me it was certainly worth a try," Cohen said.
Glaser then went to Bob Delaney and Tim Healy of CBRE in Tucson who had one of the 19.4 acre parcels listed along Corona Road. Delaney and Healy's seller also agreed to negotiate. With these brokers on board, a remaining three parcels, or about 45 more acres remained to meet the HomeGoods' requirement.
Delaney said, "It truly was creative brokerage that made the deal work and Rob Glaser was the mastermind who first had the vision and kept the process moving."
Chicago owners held another key 19.4 acre piece at the northeast corner of Corona and Palo Verde and were represented by Henry Jacome of H.J. Properties in Tucson.
"Glaser was the glue that kept the deal together; every time it looked like it might fall apart," Jacome said. "It wasn't easy getting all the sellers to agree on a price, and if any one of them backed out, the whole deal would have fallen apart."
With only 25.5 more acres to go, Glaser contacted an Elgin, Ill group of investors, to see if they would be willing participants in the negotiations, if he represented them. They agreed.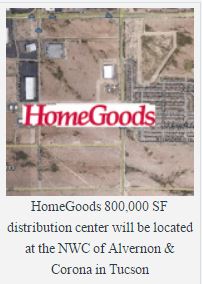 Each of the five listing brokers were put in contact with HomeGoods' broker, Art Wegfahrt of Savills Studly Commerical Real Estate Advisors in Philadelphia to negotiate their pricing terms. Prices ranged from $1.38 to $3 per square foot for the raw industrial zoned land, due to variations that included a wash running through a portion of the property.
After agreements were reached for the real estate, it still wasn't finished. David Welsh at TREO was coordinating with Wegfahrt to contact the City of Tucson and Pima County for a $1.6 million tax incentive package that would save HomeGoods $6 million over 15 years. The tax incentive was necessary in order to stay competitive with Phoenix, Southern California and Nevada that were also in the bid with sites for this project.
When the news came that HomeGoods liked Tucson best, everyone was elated. The final assemblage of six parcels from five sellers and five brokers closed at an aggregate amount of $9.53 million ($88,253 per acre) for 108-acres.
The 800,000-square-foot HomeGoods distribution facility construction costs are expected to be around $40 million and will bring a minimum of 400 with growth to 900 jobs. The city is projected to receive $1.4 million in direct revenue over 15 years. All thanks belong to the creative brokerage of everyone involved and to Rob Glaser's intuition.
Link to original post April 28th on Real Estate Daily News by Karen Schutte