In the third quarter of 2022, overall activity remains consistent even though businesses continue to navigate the hybrid, or work-from-home, environment. Ramifications of the virtual office can be seen in the call center industry. However, Tucson's medical and associated healthcare activity remains the strongest factor of the office sector, especially in the midtown submarket.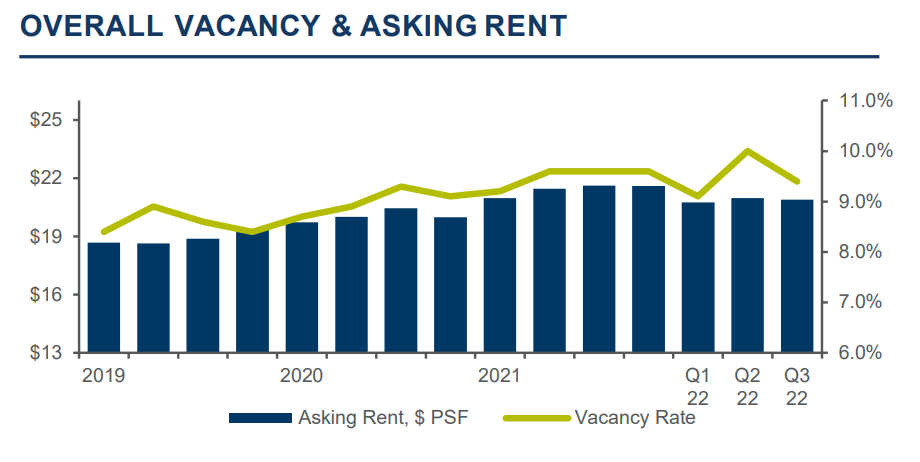 To read the full report on Tucson's office activity in Q3, click here.
Post-pandemic, call center operators found that they could operate with a home-based workforce. As a result, nearly two million sf of call center space has been vacated
in the Tucson metro area. Opportunities for adaptive reuse are under consideration by property owners who are weighing the cost-benefit of converting the space to alternate uses.
Medical and associated healthcare uses remain the strongest facet of the Tucson office sector, particularly in the midtown submarket. Hospice users have been active along with behavioral health requirements. Downtown office activity remains hindered by parking limitations and planned office developments are moving to fill multifamily demand in the city core. Only one construction project was completed in Q3 while 573,904 sf is under construction. Supply of product for sale is constrained with plenty of investors still looking for properties to buy, many now willing to capitalize on shorter lease terms of two-three years instead of the typical five-year term or net leased deals.
In the lease market, the overall average asking rental rate in Tucson is $20.90 per square feet (psf) with the highest asking rate of $29.35 psf in Southwest Tucson and the lowest of $11.34 psf in Southeast Tucson. With regard to sale prices, a few properties that have been on the market for an extended period of time are holding firm on price believing that inflation is on their side, while lenders are saying that increasing interest rates will moderate sale prices.
{{cta('e7ed2d54-72b2-49b5-a9d7-b464f40d5ecb','justifycenter')}}