There is a powerful chapter in the bestselling book Good to Great that describes an amazing phenomenon called the flywheel effect.  In the context of the book, the flywheel effect is the relentless and steady achievement of small things that lead to long term achievement of great things.
When you were a kid you might have played with a real flywheel called a gyroscope.  It's a heavy wheel connected to an axis (axel) and spun like toy top.  Once spinning the gyroscope kept spinning until friction ultimately reduced its RPMs to a point where it lost momentum, began to wobble and ultimately fell over at a dead stop.
As you are already aware, the economic flywheel in Southern Arizona is definitely spinning.  Caterpillar, Home Goods, Comcast, World View are good examples.  Here are some other examples to add to the basket of optimism:
Vector Space Systems will employ 200, with an average $70,000 per year in compensation; an estimated $290 million economic impact over five years and will be a new tenant at Pima County's defense and aerospace park when fully built out.
Bloomberg recently cited the Tucson metro area as having the third-fastest job growth with a population over 500,000.  Our YOY growth was 4.2%, well ahead of perennial leaders Austin and Seattle.
Residential property values are on the rise.
Industrial property absorption is at its best level since 2008.
Office property absorption is at its best level since 2009.
These indicators don't "just happen".  They are the result of focused and relentless effort to make them happen.  Collectively these indicators (and others) signal that Tucson and Pima County economic expansion is happening big time.
So while we have much to be proud of right now, there is also enormous potential in front of us if we keep our flywheel spinning.
Reports are that there are more companies showing interest in the Aerospace, Defense and Technology Business and Research Park.
Union Pacific has interest in expanding its rail operations in our area.
The proposed I-11 route will enhance our logistics opportunities.
The commencement of operations of Rosemont Copper would put 1,500 construction workers on the job with full benefits.  Indeed, an economic forecasting event for Cochise County in Benson recently pointed to anticipated Rosemont operations as a "significant boost" for their area.
The heartbeat in Downtown Tucson is loud and strong with more projects on the drawing board.
Let's celebrate our progress and new jobs.  But let's also remember that we need to keep our economic flywheel spinning to create even more jobs and economic expansion.  It is a good time to be in Southern Arizona.  We are on a roll.  Let's make sure we keep rolling.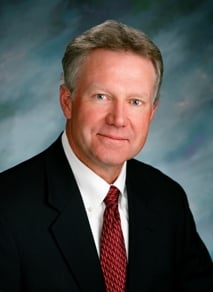 Sincerely,
Michael V. Varney, President & CEO
Tucson Metro Chamber