The Arizona México Commission held its semi-annual forum last week in Scottsdale with the theme "Are You Ready for International Business?" Because Cushman & Wakefield | PICOR has a decade-long commitment to cross-border commercial real estate, we thought it timely to share an update on the Sonora, Mexico commercial real estate environment and efforts promoting the Arizona-Sonora Region.
Overview of Sonora, Mexico
Business Environment
Nogales Sonora became home to the Maquiladora industry in the 1960's, and has developed steadily since then. Manufacturing sectors include: Aerospace, Automotive, Electronics, & Medical. Sonora has 46 industrial parks serving as home to 330 companies. With the 7th highest per capita GDP in the world, Sonora's growth in GDP is outpacing Mexico's as a whole at  6.8% over a 3-year period, vs. 4.4% nationwide. (Source: Secretaria de Comunicaciones y Transportes).
Labor
The people of Sonora have distinguished themselves with a reputation for outstanding work ethic and employer loyalty. Sonorans take great pride in learning new skills and are immersed in the characteristics of manufacturing environments as part of their culture.
Transportation/Logistics
Federal Highway Mex 15 connects the State of Sonora from north to south, and into the United States at Nogales. Federal Highway Mex 2 connects the state from east to west. Guaymas is home to the state's deep sea port. Sonora is home to six airports (Hermosillo, Obregon, Guaymas, Puerto Peñasco, Nogales, Navojoa) and six ports of entry into the United States.
Industry Clusters
Aerospace
Automotive
Metal-Mechanics
Mining
Electronics
Agribusiness
Medical
Information Technology
Real Estate Overview
Sharing its U. S. border with the state of Arizona, Sonora is seeing increasing foreign direct investment (FDI), commensurate with growth throughout Mexico. Increase in FDI comes as Mexico continues its fiscal, energy and tax reforms, which is attracting both manufacturing and investment. Mexico now exports more cars than Canada, second only to China. Ford's plant and supplier parks in Hermosillo are key to the local economy, producing more than 1,000 cars per day and at full capacity.
Excluding the border cities, the Sonoran market totals 14.3 million sf.
Land prices range $3.00 to $4.30 per sf, with lease rates in the $3.90 to $5.15 per sf range.
Construction costs average $30 to $32 per sf.
Growth in Sonora is largely concentrated in the major markets of Nogales and Hermosillo, with the forecast for the balance of the year indicating rents and occupancy will be steady to positive.
A significant investment by the federal and state governments in infrastructure is underway, providing a solid platform for companies to establish operations in Sonora and grow.
This related story by Site Selection magazine in May, 2014, highlights the Global Advantage Program:
Global Advantage Partnership Promotes Arizona-Sonora Region
Governor Jan Brewer and Sonora Governor Guillermo Padrés announced in February a new partnership to recruit technology companies from around the world to do business in the Arizona-Sonora region. Global Advantage — a collaboration between the University of Arizona Tech Parks and the Offshore Group — underscores the governors' commitment to enhancing job growth and global competitiveness near the border.
"If Arizona is to remain competitive in the global economy, it is crucial that we continue to seek and support productive international partnerships," said Arizona Governor Jan Brewer. "This venture will foster economic development and create jobs for Arizona and Sonora while attracting business investment worldwide. It is a perfect example of the regional opportunities on which Arizona and Sonora should continue to capitalize."
The partnership will leverage the benefits and assets of the border region while offering international companies a competitive and attractive location in which to do business. Global Advantage will allow companies to conduct advanced research and development at Tech Parks Arizona and provide high-tech manufacturing capabilities, administrative and support services and access to a skilled work force at one of the Offshore Group's facilities in Sonora. By capitalizing on the expertise and core competencies of both organizations — which combined offer nearly 50 years of business experience — Global Advantage will help secure long-term economic opportunity and prosperity for both Arizona and Sonora.
This partnership enables Arizona and Sonora 

to become a single region, working together

 not as two separate states, or countries, but as a single, unified economic region.
— Sonora Governor Guillermo Padrés
"This partnership enables Arizona and Sonora to become a single region, working together not as two separate states, or countries, but as a single, unified economic region," said Sonora Governor Guillermo Padrés. "Sonora and Arizona's cooperative relationship has been and will continue to be a model example of collaboration among the entire border region that greatly benefits the citizens of both states."
Global Advantage has received significant attention from international organizations in Israel, Korea and Europe. Recently, the Global Advantage team traveled to Israel to present and promote this partnership to Israeli government officials, business and trade organizations and high-tech companies. The response was overwhelmingly positive, with several Israeli companies expressing a strong interest in expanding to the US market.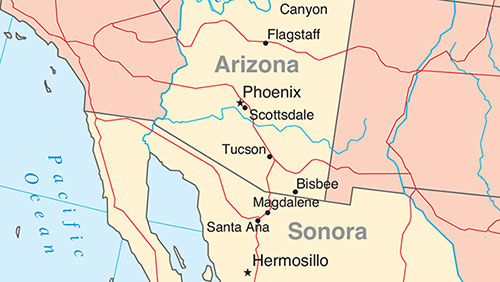 Israel is widely regarded as one of the world's leading centers of technology innovation and the source of a large number of technology companies interested in entering the North American market.At the Arizona-Mexico Commission's Plenary Session in Hermosillo, Sonora, earlier this year, Governor Brewer and Governor Padrés announced plans to capitalize on this interest and drive these companies to the Arizona-Sonora region. Later this year, the governors will lead a business and trade mission to Israel to meet with companieslooking to become Global Advantage clients, with the ultimate goal of boosting international ties and enhancing the long-term economic competitiveness of both states.
Learn more about the Arizona México Commission here.
Post contributors: Denisse Angulo, Mark Arend, Barbi Reuter
Photo of Arizona Governor Jan Brewer and Sonora Governor Guillermo Padrés by Denisse Angulo.