"The commercial real estate industry (CRE) is experiencing one of the most profound economic, social and cultural transformations in history. Globalization, rapid urbanization, shifting demographics, and technological advances are ushering in unprecedented change, and today's landscape looks dramatically different than it did even one decade ago. CRE professionals are tasked with finding new ways to adapt to this fluid and on-demand business landscape and in order to remain relevant and competitive in the digital era, the industry as a whole must operate dynamically and iterate rapidly."
This from a newly-released report from RealMassive, an Austin-based CRE tech firm, entitled "THE NEW #CREcosystem." The research project includes predictions from some of the commercial real estate industry's emerging and influential voices. Barbi Reuter, Cushman & Wakefield | PICOR, contributed. The commercial real estate industry study focuses on three key areas:
1. Data access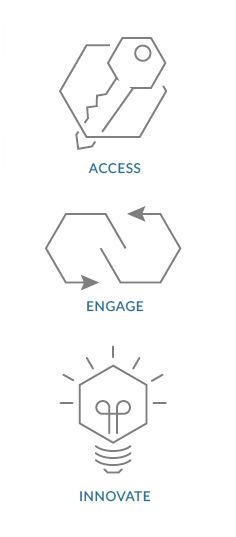 2. Engagement
3. Innovation
The unique mix of emerging technology and modern consumption patterns present both an opportunity and a challenge. "Going digital" involves redefining operational efficiency, customer engagement, product and service innovation, and workforce productivity. Standards will replace themselves rapidly, as digital leaders never cease imagining new ways to use technology. Becoming a modern digital organization is about much more than technological horsepower, tech savvy, and resources. Success in the digital age lies not in the efficiency of technology, but in the human touch and the acuity of the professionals who wield it.
We are still early on in the story of CRE's modernization. Change, innovation, transformation, adaptation – these are not singular points in time or siloed efforts, but rather, ongoing and iterative processes.
RealMassive's objective in producing this report is to open a dialogue to collectively and progressively examine the trends modernizing our industry. While technology is fundamental to new approaches, real transformation involves redefining the relationship between firm, professional and customer, and rethinking how value is created. This report will shine a light on the cultures of innovation and entrepreneurial spirits of those raising the bar within CRE.
BY SHIFTING FOCUS TO THE INSIGHTS,
SOLUTIONS AND STRATEGIES OF FORWARD THINKERS,
WE WILL REPOSITION THE
INDUSTRY'S NARRATIVE FROM ONE OF
"DISRUPTION" TO "EMPOWERMENT."
As William Gibson famously said, "The future is already here – it's just not evenly distributed yet." These trailblazers use technology not as a static means to an end, but as a dynamic tool, leveraging algorithmic power with gut feel, computational intelligence with human ingenuity.