Each year, PICOR recognizes standout performances from its team members. These range from the easily measurable and highly competitive production awards to those less tangible awards allowing senior leadership to recognize the little things that result in making a difference for clients and the community.
As a company where industry leadership, community involvement, and creative problem solving are part of the culture, recognizing those efforts that rise above is often a challenge. Following some graphics showing PICOR's position in the marketplace as we entered a new year, you'll find the names of the PICOR team members who were recognized for outstanding achievements and contributions in 2011.
Market Share
Tucson Commercial Real Estate Brokerage
According to CoStar, Tucson's primary independent industry data source, PICOR led the market in commercial property listings for sale in all three measures: rentable building area, total sale price, and number of listings.
With regard to available space represented for lease, PICOR leads the Tucson market in listings with an overall 27.5% market share.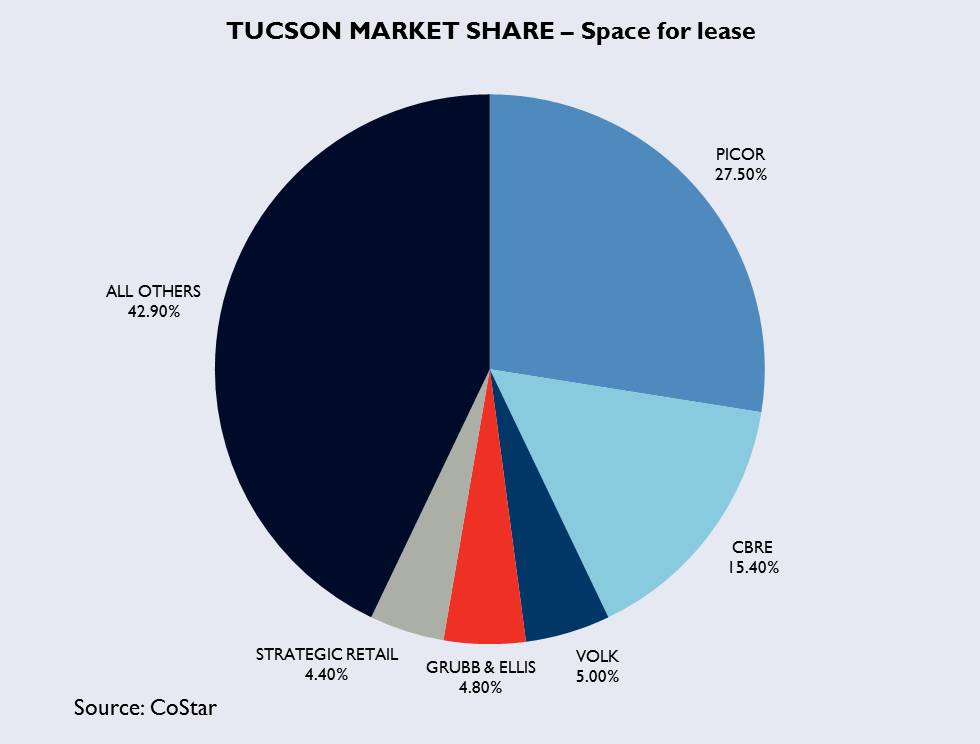 When reviewing market share and rankings for different property types, PICOR ranks first in the Tucson industrial market (43.4% market share) and retail market (14.1% market share), and second in the office market (27.0% market share).
Tucson Commercial Property Management
According to Inside Tucson Business February 10th print edition, PICOR maintained its number one rank in commercial property management in the Tucson market, with a portfolio of 4.5 million square feet under management. PICOR has led the Tucson commercial real estate management rankings since 1996 bringing its buying power and local relationships to bear to reduce operating costs for its clients and enhance timely service delivery.
2011 Recognition
Loyalty
68% of PICOR employees have been with the firm five years or longer
30% have been with PICOR 15 years or longer
PICOR did not lay off any employees during the recession, nor were any hours or compensation reduced
Company Awards
President's Award for Excellence: Tom Nieman
Fast Start: Brandon Rodgers, Liz Parker
Cost Savings: Maria Cota
Admin Employee of the Year: Estella Armstrong
Brokerage Awards
Winner's Circle (Top Three Producers)


Rob Glaser           Peter Douglas      Greg Furrier
Division Leaders (Highest Producers)
Property Management Awards
Many others were recognized, notably those whose efforts made it our Charitable Foundation's most successful year ever, and those who impact the culture of PICOR day in and day out.
We hope also to earn your 'like' on Facebook