Tom Knox retires from Cushman & Wakefield | PICOR, after twenty years of service, on September 30, 2015. An integral member of the office division and a principal/ shareholder, Tom's quality of thought and contributions made an indelible mark on our culture. Much of C&W | PICOR's success can be directly attributed to Tom's leadership, and his contributions will always be valued and remembered. His tireless work, commitment, and dedication are worthy of admiration.
While real estate has been Tom's passion for 38 years, he is looking forward to hitting the road with his beloved wife, Jill, in their new motorhome – off to explore new horizons.
Hats off to our friend, and only the best of wishes and deepest gratitude for his rich role in the fabric of our history!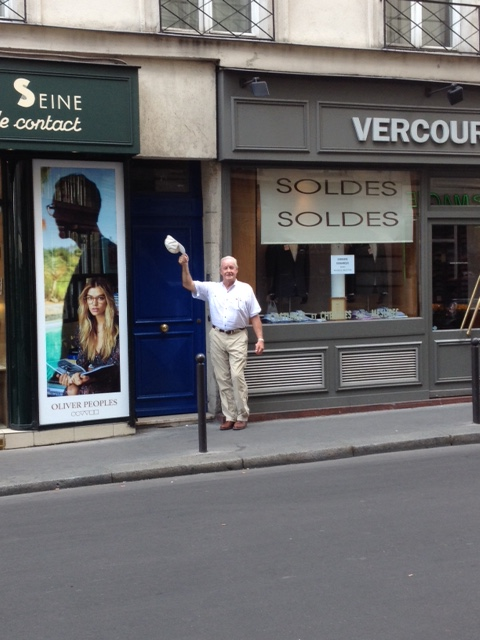 Please enjoy these comments about Tom assembled from his co-workers and clients.
Love Tom's sense of humor! Never failed to make me laugh!
~ Rebecca Fuentes
The thing I admire the most about Tom is that he is a very caring and loving person! To everyone! His wife and children are very blessed to have such a special man. And what I loved the most about him is that he calls me "SENORITA" which means "MISS" I haven't been a "MISS" in 35 years. When he would say that to me it would make my day. I will miss "SENOR TOM" dearly. I WISH HIM AND HIS FAMILY THE VERY BEST!
~ Veronica Campa
For almost 40 years Tom has been a friend and the guy I've always sought advice from on real estate. He conducts himself with the highest integrity and his advice is always sound. I wish him the best in the next phase of his life, which I'm sure will include some interesting pursuits he has not had time to explore.
~ Garry Brav
Tom you were a wonderful Partner truly loved by everyone in the office. We had some very productive times together AKA AOL/Texas Instruments but more than any contribution I can think of, you were an original Better Batter Brother. Best Batter on Earth. I will miss you then and always, love from your Better Batter Brother Rob.
~ Rob Glaser
It is a great honor to have met and worked with Tom Knox for over 10 years. He has always displayed his upbeat optimism, joy and zest for life. He is funny and makes you keep a big smile on your face. I will sincerely miss him each and every day, but I am also happy for his next chapter and up-coming new experiences. "God Bless you, Best Wishes and much Love to you Tom!!"
~ Estella Armstrong
Tom has been a great leader and someone I admire in the real estate world!
~ Allan Mendelsberg
I am lucky to have worked with a man who has an amazing personality and sense of humor.
I will miss his energy, happy attitude and seersucker shirt!
~ Diane Carlson
What a guy! Always articulate, with the right words for any situation. A class act!
~ Steve Cohen
We are very sad and depressed. Without Tom Knox it will not be the same place. He is the "BEST" for all of us especially for Picor. The man is brilliant and very hard to replace him. We do not know what we will do without him. Just tell Tom not to ever try buying a big boat. He will know what we are talking about. We have been working with Tom for so long……….but all good things must come to an end. God's Speed to you Bro/Tom. Go have some fun now. All of us will miss you. WE LOVE YOU BRO KNOX.
~ Your Friends Bracamonte

Tom Knox can dance.
~ Isaac Figueroa
No one here better modeled doing both the right thing and doing things right. I'll miss Tom's creativity, his caring support of the underdog, and humble, yet driven spirit. May we all learn from his fine example and strive to be more like him.
~ Barbi Reuter
In addition to his status as one of the premiere commercial real estate brokers in Southern Arizona, Tom has always been a great resource for information and advice. Even prior to my employment at PICOR, Tom was an open and helpful person to do business with and it was partially because of that experience that I came to PICOR. He will be missed in the Tucson brokerage community as a whole, not just at PICOR.
~ Rob Tomlinson
When I think of Tom Knox, the words that come to mind are top knotch, genuine and kind person. I will miss his cheery morning and afternoon greetings.
~ Linda Montes-Cota
A very skilled and experienced colleague, who was always a pleasure to work with.
~ Tom Nieman
Tom is a man I really admire. I also remember, sitting in that conference room, there was such resolve and determination in his soul that I just knew that Tom would be successful, and that the PICOR family was where Tom needed to be. Tom is like a brother, I love him and am pleased to be part of the family that helped him rebuild and now can enjoy celebrating with him on his next very important adventure in life, tooling around in an RV with other old timers.
~ Russ Hall