The second quarter of 2014 saw historic progress in absorption and vacancy figures. 235 units were absorbed in the second quarter of the year with the largest gain in South Central Tucson. Downtown Tucson had all the buzz, and many prospective residents were looking for properties within this submarket. The overall vacancy rate dropped 0.28% to a very encouraging 9.05% at the year's midway point. The net rents for the Tucson market continued to stay flat with no gain over the last six months. Tucson sales were averaging $639 per unit and $0.86 per sf (without utilities) in Metropolitan Tucson. The highest average rent was found in the Oro Valley/Catalina submarket at an average of $838 per unit. The lowest average rent of $512 per unit was found in the South Tucson/Airport area.
Minimal rental gains over the last few years were attributable to lack of job growth within the Tucson region. Emphasis has been placed on business attraction; however, incremental progress has led to a slower recovery compared to other markets. The University area and Downtown Tucson have seen significant redevelopment and new construction over the last few years. Tucson will continue to see minimal growth until significant hiring occurs in the marketplace.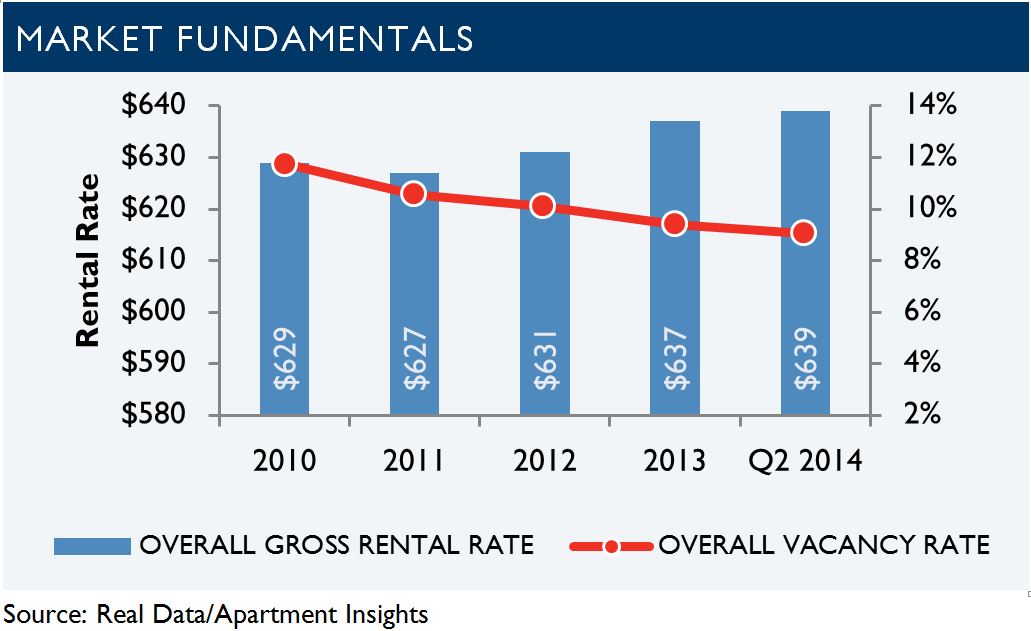 The new construction pipeline remained active and strong with well over 1,000 units under construction or planned.  The supply versus demand question continued to linger as some of the newly constructed units from 2013 were already beginning to offer significant concessions to future residents.
Investment Market
Tucson has quickly turned the corner and become a seller's market and hotbed for investors. Properties taken to the market are gaining significantly more local and out of state investor interest.  The minimal inventory has been very frustrating for many of these investors who are actively focusing on Tucson due to higher cap rates and low cost of debt in the broader marketplace. Properties that are priced correctly with stable occupancy have generated numerous offers in a short time.
For more information on Tucson's investment market, please contact Allan Mendelsberg.
Photo source: Bigstockphoto