Cushman & Wakefield | PICOR's Rick Kleiner, MBA, won the 24th annual Southern Arizona CCIM Forecast competition for most accurately predicting the Tucson office vacancy at year end. What follows is the transcript and slides from his recent presentation to the CCIM chapter forecast. Be sure not to miss the aerial video tour of Tucson at the end of this post!
I appreciate the opportunity to visit with you and discuss some of my personal reflections on the Tucson office market.  I hope you come away with a fresh perspective! First let's take a quick look back at 2014.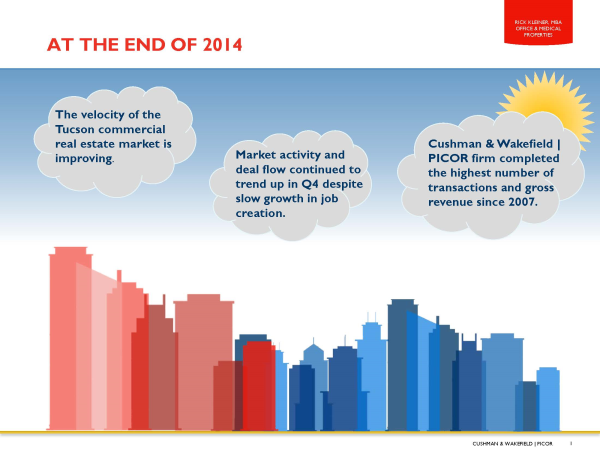 We've been hearing the theme throughout this afternoon that at year-end, the velocity of the Tucson commercial real estate market is improving. The good news is that market activity and deal flow continued to trend up in Tucson in the Fourth Quarter, in spite of slow growth in job creation. For the year, Cushman & Wakefield | PICOR completed the highest number of transactions and gross revenue since 2007.
Regarding Office leasing, there are four attributes that I'd like to touch on:
Lease transactions continue to be dominated by smaller tenants and renewal activity.  A typical office lease in the Tucson market ranges from 1,500 to 2,500 sf, with a term of 3 to 5 years.
Of no surprise to Landlords here today, the Tenant's Market continues.  Landlords are pressed to provide incentives, ranging from rent abatement to tenant improvements.  In the case of renewals, Tenants will shop the market, then come back to their current landlord armed with competitive proposals to improve their deal.
Despite rents and pricing remaining flat, we are seeing an increase in activity. A primary reason has to do with the musical chairs 'flight to quality.'  Tenants can move up from Class C to Class B and A space, in today's environment of attractive terms.
As for Office Vacancy rates, The Tucson office market experienced positive absorption in 2014 of some 188,000 sf.  While the year-end 12.6% marketwide vacancy is essentially flatline to previous years, interestingly the downtown CBD vacancy rate ended the year at 8.6% vacant.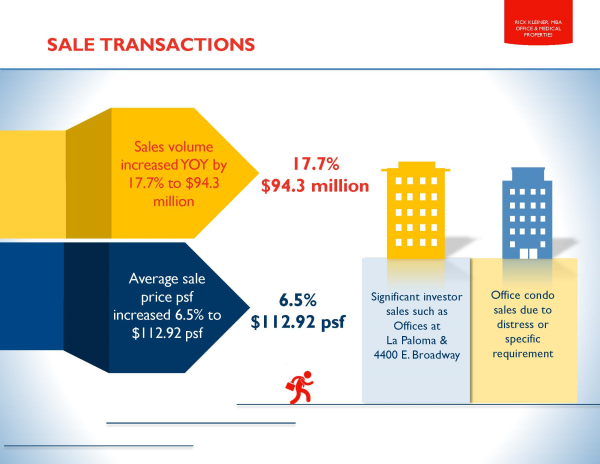 Regarding Office Sales transactions, both Sales Volume and Average Sales Price increased in 2014.
Tucson office sales volume increased YOY by 17.7% to $94.3 million, and the average sale price per square foot increased 6.5% to $112.92 psf.
Several significant Investment Sales played a key role in these trends, including the March sale to Larsen-Baker of the 83,000 sq ft former MDA national headquarters, now renamed The Offices at La Paloma,  and the December sale to California-based ICO Investment Group of 4400 E Broadway.  I co-represented the seller in both transactions.  I think these sales illustrate the local opportunities for value-oriented investors in which capable purchasers can acquire office properties at a significant discount.
Meanwhile Office Condo sales occur only intermittently, either due to a Seller's distress situation or a specific Buyer requirement that cannot be otherwise satisfied by existing office inventory.
By the way, you can access and download our quarterly office market reports, as well as for industrial, multifamily, and retail, on our website www.picor.com.  Just click on the tab for market reports and studies.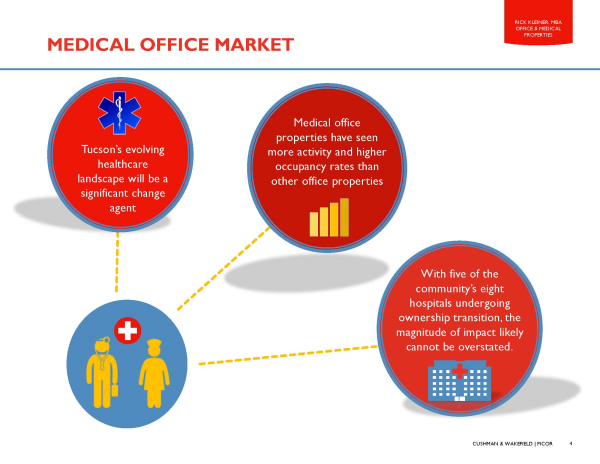 A large part of my focus is the Medical Office Market, which continues to be fascinating. Tucson's evolving healthcare landscape will be a significant change agent.
Medical office properties have seen more activity and higher occupancy rates than other office properties. In 2014 we've seen independent practices growing and expanding. Consequently more medical office space is being absorbed and rental rates remain firm.
With five of the community's eight hospitals undergoing ownership transition, the magnitude of impact likely cannot be overstated.
Regarding University of Arizona Health Network, the Arizona Board of Regents has approved the $1 billion-plus merger with Banner Health, giving the state's largest health system a foothold in Tucson.  The deal officially closes Feb. 27 with Banner Health acquiring the UA Health Network's two-hospital system and partnering with the University of Arizona College of Medicine. 
Regarding Carondelet Health Network and its parent company, Ascension, they've signed a Letter of Intent with Tenet Healthcare and Dignity Health. Tenet will be the majority partner in the JV with management responsibility for Carondelet's 3 area hospitals and Carondelet Medical Group.  Tenet and Dignity own and operate hospitals in Phoenix.
Non-profit Tucson Medical Center, the region's largest, completed an outstanding operating year in 2014 and is similarly poised in 2015.  Our firm has had the privilege of working closely with TMC for 20 years in brokerage and property management.
Northwest Medical Center and Oro Valley Hospital, which have featured coverage in the current BizTucson issue, are part of Community Health Systems. Headquartered in Franklin, Tennessee, CHS includes 206 affiliated hospitals in 29 states. Northwest is breaking ground this month at Houghton Town Center for construction of a $7.2M freestanding Emergency Department, the first of its kind in Tucson, in a transaction that I helped broker. 
In summary the full medical economy from construction, practice management, jobs and facilities will see continuing movement, especially as Banner, Tenet and Dignity complete their investments in the Tucson economy.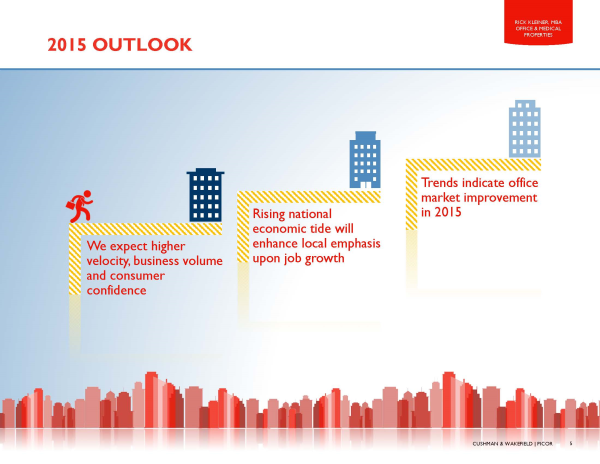 To conclude, looking ahead at 2015:
We expect higher velocity, business volume and consumer confidence.

A rising national economic tide will enhance local emphasis upon job growth, which is the key driver.

Altogether these trends indicate office market improvement in 2015.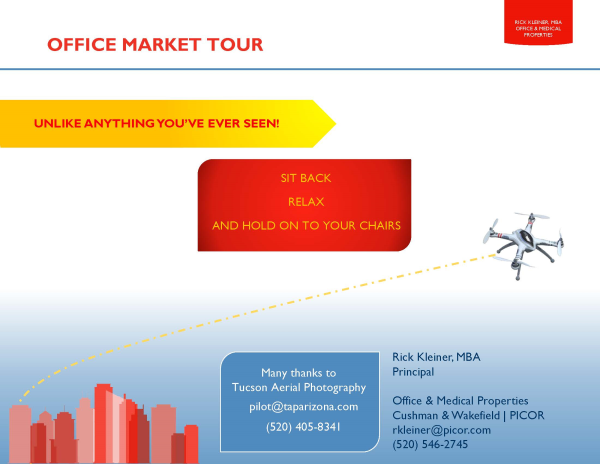 When I began, I promised a 'fresh' perspective' on the Tucson office market – and here it is!  Please hold on to your chairs–I  promise an office tour now unlike anything you've ever seen!
CCIM Competition 2015 Tucson, Office Category for Cushman & Wakefield / PICOR from TAP Arizona on Vimeo.
My sincere thanks to the professionals of Tucson Aerial Photography for putting that tour together.