For the Tucson apartment market, the third quarter of 2014 continued to report historic progress in absorption and vacancy figures.  Tucson's multifamily inventory absorbed 618 units in the third quarter of the year. The vacancy rate dropped 0.8% to a very encouraging 8.2%.  These two indicators continue to improve in the marketplace mainly due to the declining average rent in Tucson.
The net rents for the Tucson apartment market dropped $3 per unit to an average rent of $636 per unit and $0.87 per square foot (without utilities) in Metropolitan Tucson.  The highest average rent is found in the Oro Valley/Catalina submarket at an average of $849 per unit.  South Central Tucson experienced a decrease of $31 over the previous quarter.
Minimal rental gains over the last few years can be attributed to lack of job growth within the Tucson region. There has been an emphasis on attracting new employers; however, minimal success led to a slower recovery compared to other markets.  Improvement in the overall market slowed down from previous quarters, but most of the indicators seem to be positive.  Management companies reported increases in net operating incomes (NOIs) from previous quarters but echo the inability to push rents in most submarkets.
Two significant companies, a logistics operation and a call center, have short-listed Tucson as their location of choice.  These companies would bring over 1,000 new jobs to the market place.  One or more of these announcements would be a welcome catalyst to help kick start the road to meaningful recovery and economic growth.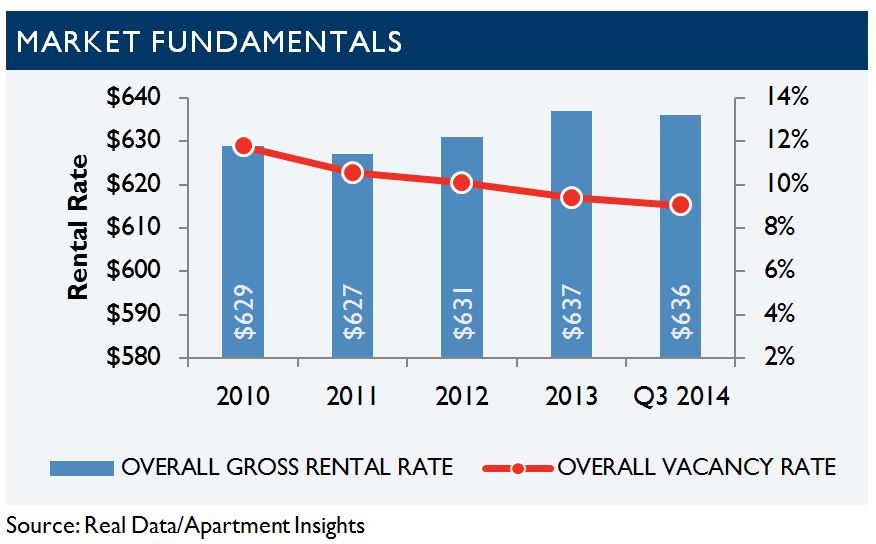 Investment Market
Tucson continues to be a desirable destination for many apartment investors.  The third quarter experienced an increase in out-of-state exchange buyers looking to enter the Tucson multifamily market place. The underwriting in the Tucson market and Phoenix markets have begun to vary. While Tucson projects minimal to no rental growth, the Phoenix market's proforma projections predict significant rental growth on most properties.  We continue to see a high number of local properties needing stabilization due to the lack of rental growth and inconsistencies in vacancy numbers throughout the year. Properties that are properly underwritten will receive significant attention.