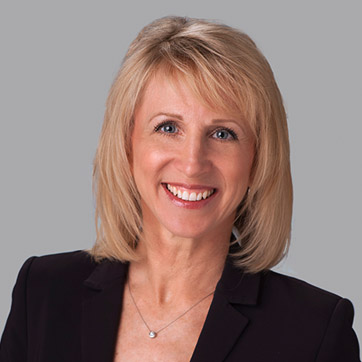 Barbi Reuter, RPA
President
Principal
Barbi Reuter's affiliation with Cushman & Wakefield | PICOR began with the firm's opening in 1985, becoming a principal in 1992. Following three years as chief operating officer, she was named President in 2017, leading the employee-owned commercial real estate firm's activity in southern Arizona. Active in community and industry efforts, she writes and presents on commercial real estate social media and technology and edits PICOR Connect, the firm's commercial real estate blog. She serves on the boards of the Tucson Metro Chamber, YMCA of Southern Arizona, Tucson Girls Chorus, and is an Advisory Board member for Real Estate Tech News and TREND Report. Previously, Barbi founded the firm's Property Management Division, taking it to the lead in market share and directed the Division until 2007 managing office, medical, industrial and retail space. Barbi has also served as court-appointed Receiver in both County and Federal courts.
CURRENT
Member: Arizona Town Hall, International Council of Shopping Centers (ICSC), Southern Arizona Leadership Council (SALC), Urban Land Institute (ULI), Women Presidents' Organization (WPO)
CREW Network – Executive Mentoring Program (2011-2012); Board member (2015-2016), Mentor (2018)
CREW Tucson – Charter Member (2003-), Past President (2013), Director (2006-2014)
Cushman & Wakefield – Women's Integrated Network, Leadership Council (2017-)
Greater Tucson Leadership – Class of 2002, Alumni Member (2011-)
PICOR Charitable Foundation – Past Chair, Current Officer (1994-)
Tucson Girls Chorus – Board of Directors (2009-), President (2014-2015)
Tucson Metro Chamber – Board Member (2016-), Vice Chair (2017-2018), Chair (2018-2019)
YMCA of Southern Arizona – Board Member (2016-)
PREVIOUS
Arizona Repertory Singers – Member
Big Brothers/Big Sisters of Tucson – President (2002), Board of Directors (1993-2006)
Building Owners and Managers Association (BOMA) International

Regional Owners Council (ROC), Chair (2004-2006)
Governance Task Force, Member (2001-2002)
Regional Task Force, Chair (2000-2001)
Executive Committee, Pacific Southwest Region representative (1999-2000)
Finance Committee, Member (1995-1999)
Executive Search Committee, Member (1998)
President's Advisory Council, Member for four administrations (1991-1997)
Education Committee, Chair (1993-1999)
Strategic Long Range Planning Committee, Member (1990-1991; 1996-1998)
Product Review Committee, Member (1994-1997)
Membership Task Force Member (1993-1995)
Board of Directors, Director/VP, Pacific Southwest Region (1991-1993)

BOMA/Greater Tucson – Various committee roles and leadership positions, including President (1989) and authorship of Tucson's first Market Conditions Report in 1987
CREW Network – National board member (2015-2016), Executive Mentoring Program (2011-2012)
Girl Scouts of Southern AZ – Committee of 100 Women (2012-)
Our Family Services – Divorce Recovery Volunteer (2005-2006)
AWARDS/HONORS
Small Business Leader of the Year 2017
Ordinary Women Doing Extraordinary Things, Eller College 2009, 2017
Tucson CREW President's Award 2011, Professional Service Award 2009, Member-to-Member Business Award 2007 & 2014, Career Advancement for Women 2017
Who's Who in Business, Arizona Republic 2016
Woman of Influence, Real Estate Forum magazine 2015
Most Influential Women in CRE, AZ Commercial Real Estate magazine 2015
Most Influential CRE Person Online, DukeLong.com 2013, 2014, 2016
Woman of Influence, Inside Tucson Business 2012
President's Award for Excellence, C&W | PICOR 1991, 2002, 2012, 2016
Spirit of Philanthropy Award, Association of Fundraising Professionals 2006
BOMA Greater Tucson, David L. White Philanthropic Award 2005, Member of the Year 1994
Women on the Move Nominee, YWCA of Tucson 2002
BOMA International President's Award, for advancing education mission, 1999
EDUCATION
Arizona Broker's License
Executive Ed certificates: CREW Network MIT/Harvard/Emory 2016; Harvard Leadership, 2006; USC/BOMA, 2000;
Bachelor of Science in Business Management, University of Phoenix
Building Owners & Managers Institute (BOMI) – Real Property Administrator (RPA)
Contact Me Directly
If you would like more information about a property or have other questions, please complete the form below and I will get back to you.