ELLER COLLEGE OF MANAGEMENT
By: Valorie Rice and Maile Nadelhoffer
March/April 2012

The Census Bureau released a report on annual state government tax collections April 12 (it was revised April 17).  It stated that overall collections for states increased $55.7 billion in fiscal year 2011 to $757.2 billion. All states saw an increase in total tax revenue.  The change for Arizona (6.48 percent) was below the U.S. (7.94 percent) and far from the state with the highest change, which was North Dakota (44.47 percent).
Arizona had the highest foreclosure rate in the nation for March with one out of every 300 housing units in foreclosure, according to RealtyTrac. Arizona's rate actually dropped 41 percent in March. However, Nevada's rate dropped even more (62 percent), placing it second.  Until this month, Nevada has continuously had the highest monthly foreclosure rate in the nation since the beginning of 2007.
Arizona's unemployment rate for March was 8.6 percent according to the Arizona Dept. of Administration news release of April 19th. This figure is down 1.4% from a year ago, and represents a one-tenth of one percent decline from the previous month. Arizona added 18,900 nonfarm jobs in March.
Initial unemployment claims filed in Arizona rose significantly during the first week of April, climbing to 7,805 compared to 4,771 in the week previous. In the second week of April claims declined slightly to 7,080. But, the 4-week moving average for claims has now climbed for 3 consecutive weeks to 6,120. At the national level, with an additional week of data available (through 4/21/12), the four-week moving average for claims has now risen for 5 straight weeks, see table below.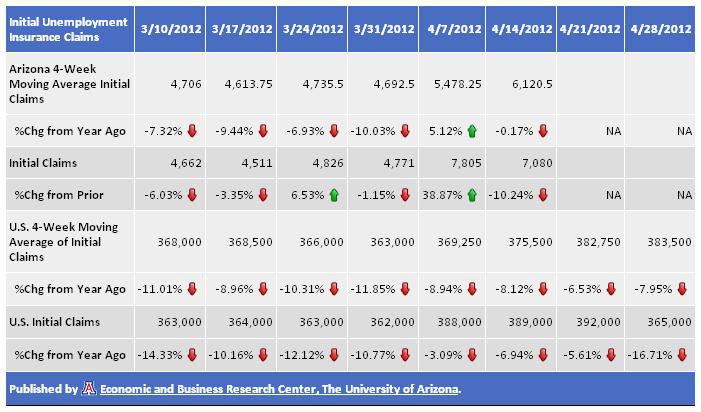 The Consumer Price Index for all Urban Consumers (CPI-U) rose 0.3 percent in March on seasonally adjusted basis, according to data released Friday, April 13th from the Bureau of Labor Statistics.  The 12-month change in inflation was 2.7 percent before seasonal adjustment.
Producer Price Indexes released on April 12th.  Prices for finished goods were unchanged for March. The unadjusted year-over-year figure was 2.8 percent. This was the smallest 12-month change since June 2010.
For additional information, please contact the Economic and Business Research Center.