INSIDE TUCSON BUSINESS
Roger Yohem
May 4, 2012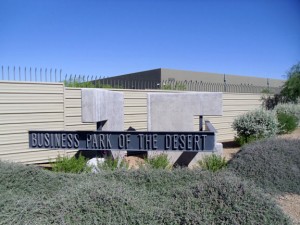 Where are the jobs? The substantive, significant jobs?
New first quarter 2012 data show that despite growing optimism, the hard numbers depict an uneven, grinding improvement in the Tucson region.
In the industrial sector, "the Tucson real estate market is taking its time catching up with the national economic recovery. While activity ebbs and flows, it has not yet translated into meaningful job growth," said Paul Hooker, industrial property specialist with PICOR Commercial Real Estate Services.
Tim Healy, vice president at CBRE, described the sector's activity as moderate. CBRE tracks private sector, owner and non-owner occupied buildings of 10,000 square feet or larger.
For the first quarter, net positive absorption of about 50,000 square feet nudged the vacancy rate down to 11.2 percent from 11.4 percent at the end of 2011.
Most notably, industrial occupants continued to abandon the city's southeast and southwest submarkets, where 34,000 square feet has been vacated since January. Meanwhile, preference for northwest sites continued, with the region's largest positive absorption at 29,300 square feet.
For the industrial sector as a whole, CBRE reported the average asking lease rate increased 13 cents per square foot from the end of 2011 to $6.48 in the first quarter.
The retail sector posted its fourth consecutive quarter of modest growth, ending with positive absorption of about 100,000 square feet. The move to better quality locations, again mostly in the northwest submarket, continued.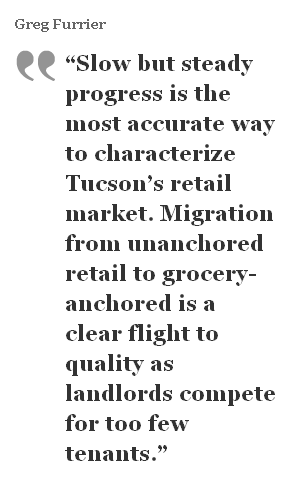 "Slow but steady progress is the most accurate way to characterize Tucson's retail market. Migration from unanchored retail to grocery-anchored is a clear flight to quality as landlords compete for too few tenants," said Greg Furrier, a principal with Picor.
The quarter ended with an overall vacancy rate of 11 percent, compared to 11.6 percent in the 2011 fourth quarter, said Alan Tanner, first vice president at CBRE. The average asking lease rate declined to $18.12 per square foot in the first quarter from $18.45 at the end of 2011.
"Reductions in the asking rate are likely to persist until vacancy drops even lower, especially among mid-block and non-anchored centers," Tanner said.
The biggest increase in absorption occurred in the northwest submarket that gained about 50,000 square feet. The only area to lose space during the quarter was the southwest submarket, losing about 5,000 square feet of occupancy, according to CBRE.
Both Picor and CBRE reported that national retailers, including large big box operators, are actively searching for space in prime locations.
In the office sector, steady improvement is expected to hold until 2013. Quarter-over-quarter, vacancy rates improved to 11.7 percent from 11.8 percent, giving the market "a sense of stability for the first time since 2008," said Picor principal Rick Kleiner. "Medical uses represent the strongest demand and will remain a primary growth industry for the region."
Although no submarket posted a drastic change in office vacancy, the northwest area again saw the strongest growth, absorbing just over 39,000 square feet of space. The entire market posted positive 33,500 square feet of absorption for the quarter, according to CBRE.
The average asking rental rate for multi-tenant office space decreased for the third consecutive quarter, falling to $18.65 per square foot form $19.19 at the end of 2011.
"The office market is one piece of evidence depicting modest progress. Yet the continued decrease in lease rates indicate it has yet to show significant signs of improvement. Because of its dependence on employment, it is unlikely substantial improvement will occur until hiring activity increases at a higher rate," said Dave Montijo, first vice president at CBRE.
Source article on Inside Tucson Business.