Barbi Reuter, PICOR
TREND REPORT
December 2011
Commercial real estate (CRE) is a relationship business. Technology tools enhance relationships and service delivery; they don't replace them. Said another way, technology and social media are not ends in themselves, but means to improve service through improved research, analysis, marketing and productivity.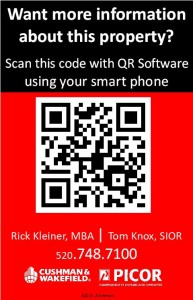 Early adopters jump on the newest, brightest shiny objects, sometimes in the name of being the cool kids on the block. We've seen this trend in the use of QR or quick response codes (those black and white scannable images that link to web content). PICOR uses them on window signs for buildings with walk-up traffic. You can scan the code on your smart phone and link to extensive information including floor plans, specs and pricing to determine if the space meets your needs. But QR codes on a 'for lease' sign in the right-of-way: Can you safely drive up and scan that code and get information? Or QR codes in an email: I'm on my computer already – just give me the link and save me the step of scanning the image.
Is real estate a commodity?
With technological advances and free or inexpensive web-based access to oodles of data, many services have become commoditized. Does CRE fit that profile? Could a buyer or tenant conduct their own space search online and deal directly with a landlord or seller? Technically, yes.  Anyone can search for listings on LoopNet, CoStar, or on the websites of service providers like PICOR. But skilled brokerage provides a value add: Market expertise, analysis, counsel, and negotiating skill to facilitate a meeting of the minds to lease or buy commercial property. That being said, the speed at which information flows and transactions occur in today's marketplace demands that brokers are tech savvy to focus these resources, productively, on the end result: a successful transaction.
Technology's impact on space demand
Product compression impacts multiple facets of the market. From a productivity standpoint, 'unitaskers' of the past are now consolidated into one pocket-sized, mobile, web-enabled device: the smart phone. Due to innovation, many of us may never buy another dictionary, alarm clock, calculator, flashlight or standalone GPS. While most smart phone applications are free, the trusty HP calculator apps (12C and 10Bii) are still a bargain at around five or six dollars.
Clearly, while we have gains in efficiency, the consolidation of products has a direct impact on space use. Fewer products means fewer manufacturers (impact on industrial), fewer products to sell (impact on retail), and less support (impact on office). That being said, old products give way to new industries, bringing their own facilities needs from R&D to manufacturing, warehousing and support.
Remember telecommuting and hoteling? These trends, now a decade old, were said to spell the demise of the office building as we knew it. What adaptive reuse would we devise to repurpose all those empty commercial buildings? Now many pundits say the shopping mall and strip center are doomed by skyrocketing e-commerce. People still want and need to convene. Shopping is still a social or tactile experience. While neither product type is likely to disappear, much change has taken place and will continue. Embracing change when your asset is grounded by bricks and mortar may mean revising your footprint or considering a different tenant mix. The key is to anticipate and embrace change and not let the market pass you by.
Tools in the toolbox
Getting a property leased or sold means first connecting to the right market. Tapping expanded networks and tools enhances our ability to do so, but always requires judgment and expertise. Listed here are just a few examples:
Website. Our website is a crucial statement of our brand, from culture to capabilities. First generation websites served as digital brochures. Today, the best websites are knowledge centers, and those with the highest traffic provide fresh content that is of value to their market. This means current listings, news, market reports, analysis, and links to other providers of value.
Cloud based solutions. Being a nimble broker is enhanced by the movement of data and resources to the web or cloud. A single broker can play bigger, and a large firm like ours can react quickly and back it up with expanded resources. To the client or user of commercial space, this means nearly instant access to information while touring properties, informing their decisions on the go.
Social networks.  Twitter, Facebook, LinkedIn, YouTube…Should I or shouldn't I? Essentially, you should if they support your strategy. Have a strategy. Know what you want to accomplish. We consider our activity in social media an extension of our ability to lease, manage and sell space for our clients by networking through new and different channels.  This means building our brand by engaging with people and our local community–building relationships with the intention of driving business for mutual success.
Mapping & data. Subscribing to the latest mapping software, demographic information and databases of investor and tenant activity informs decisions and allows brokers to market properties with timely, accurate and relevant information.
Alternative marketing. Auction sites and services now allow brokers to use this vehicle where appropriate. They provide new arrows in the quiver to target marketing to a specific need.
What's on the horizon?
Historically, our industry has been slow to innovate and adopt new technologies. At the end of the day, using technology wisely means harnessing innovation to your advantage to provide the highest level of personal service. Read the news and blogs and you know that the technology life cycle, too, has compressed. How will emerging technologies like voice and near field communications (NFC) impact commercial real estate? Opinions are plentiful and time will tell.

Barbi Reuter, RPA is one of 13 PICOR principals. She is responsible for the firm's operations, research, finance and new media activities, liaises with the global services platform provided through the Cushman & Wakefield Alliance, and serves as Associate Broker. Barbi is active in industry and community leadership, through such organizations as Commercial Real Estate Women (CREW), Greater Tucson Leadership, Arizona Town Hall, and board work for the Tucson Girls Chorus and PICOR Charitable Foundation. Connect with her by phone (520.546.2744), email ([email protected]) or Twitter (@BarbiReuter).
For more information on TREND Report, visit http://trendreportaz.com/ or contact Publisher, Lucinda Smedley.
Photo credit: Lyn Sims