INSIDE TUCSON BUSINESS
By: Patrick McNamara
June 28, 2012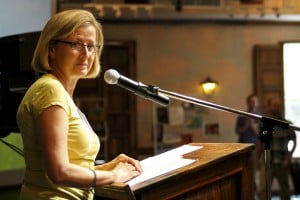 It's been more than two years in the making, and now the community visioning process called Imagine Greater Tucson has reached a milestone.
The group's community survey has wrapped up, with more than 6,700 people participating.
"I think we got a good cross-section of the community," said Patrick Hartley, program director for Imagine Greater Tucson.
Conducted through a series of workshops and online, the survey queried residents about their thoughts for future growth scenarios, the economy, environmental protection and the type of region they want Tucson to become.
From the survey results, Imagine Greater Tucson plans to construct one scenario that encapsulates what the community said. But that doesn't mean picking one winner from the growth scenarios that people chose from, Hartley said.
"It has really showed us that people in the community are looking for choices," he said.
For instance, the survey asked which of four growth scenarios presented were most agreeable to participants. Those included continued growth along the same lines as the past, suburbs and centers, new centers and urban centers.
Among the participants, 64 percent responded that urban centers were the most preferred scenario.
"I think there is an understanding among many people in the community that trends are changing and demographics are changing," Hartley said, adding that younger residents increasingly want to live in areas with mixed-use development that are amenable to walking.
"People are really rethinking that model," he said.
Mixed-used, similar to what formerly was called high-density development, has proven a difficult sell in the past, however.
"We support the ability to develop at high densities and mixed-use," said David Godlewski, president of the Southern Arizona Home Builders Association. "We haven't seen a track record or political will to do it."
Godlewski points to the controversies over the Main Gate Overlay District in the City of Tucson as an example.
There, residents have been outspoken against high-density and mixed-use developments because of the potential impacts on traffic and views. The plan has allowed for buildings as tall as 14-stories to be built.
"This is exactly what Las Vegas did when it was in its boom cycle of growth (in the late 1980s through the 1990s)," said Mike Varney, Tucson Metro Chamber president and CEO.
Varney came to Tucson from a similar job in the Las Vegas area, where he said the community embraced an effort to alter the patterns of growth in the region that had for many years, like the Tucson area, favored continued outward sprawl.
Instead, attempts were made to minimize sprawl by building higher-density developments and focusing on urban core areas.
"It was a very different model of home building but it became the norm," Varney said.
Imagine Greater Tucson participants strongly supported the idea of higher-density development.
Another survey question, which asked whether people would prefer to live among greater density areas if sensitive lands were preserved or in lower density with less environmental preservation, showed similar results.
By a margin of 81 percent to 19 percent, survey participants chose the higher-density option.
Survey results also showed that respondents were equally receptive to the idea of putting new businesses downtown in redeveloped commercial centers. Only seven percent of survey respondents supported concentrating new business development in the outskirts of the region.
Other questions in the survey included asking participants to rank which items were most important to them from a list including a vibrant downtown, availability of single-family housing and less travel time, among others.
Participants ranked clean and sustainable water resources as most important, with 83 percent putting it at the top of the list. Clean air was the second most important with 75 percent and conservation of the natural environment had 70 percent of the vote.
On transportation issues, participants overwhelmingly supported the idea of building a regional rail system. That issue garnered 51 percent support.
Survey participants were equally split in support for more road widening, improved bicycle infrastructure and expanding the bus system, each with 40 percent support.
Least popular on that list was building more roads, with 27 percent support, and adding more lines to the modern streetcar system, with 28 percent support.
Whether the effort will find its way into government code remains to be determined.
Hartley said the individual jurisdictions would have to decide whether the survey results and forthcoming scenario documents fit their community visions.
"This is not Imagine Greater Tucson's vision," Hartley said. "This is a vision from the residents of the community for the region's future."
Contact reporter Patrick McNamara at [email protected] or (520) 295-4259.