Editor's note:  Peter Douglas, SIOR with PICOR Commercial Real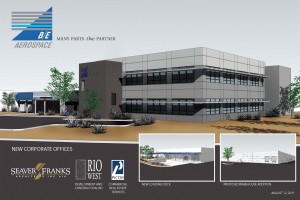 Estate Services and Graham Real Estate Advisors handled BE Aerospace's recent expansion from 90,000 square feet to 129,652 square feet in Tucson.
By: David Wichner
ARIZONA DAILY STAR
August 13, 2011
B/E Aerospace is expanding its luxury-aircraft-interior plant on Tucson's east side to help meet strong demand for "super first-class" aircraft suites.
B/E, which opened its Tucson plant in 2002, broke ground Friday on about 21,000 square feet of new factory space and a two-story, 13,600-square-foot office wing at its existing, 90,000-square-foot site at 1851 S. Pantano Road.
The new areas are expected to be completed in the first quarter of next year, said Doug Rasmussen, vice president and general manager of B/E's Tucson operation.
The Florida-based company also has increased its local workforce from about 390 at the start of the year to more than 420, he said.
Rasmussen said demand is brisk for the luxury suites his company custom-builds for international airlines that cater to transoceanic travelers, including British Airlines, Lufthansa and Qantas.
Strong order backlogs for "twin-aisle" jumbo jets made by Boeing and
Airbus bode well for continued demand, he said. He cited current wide-body jets like Boeing's 777 and Airbus' A330 and A380, and the next-generation Boeing 787 Dreamliner and Airbus A350.
"They're seeing continued strength because worldwide what you're seeing is many more markets opening up, markets in Southeast Asia and the Middle East," Rasmussen said.
Accustomed to luxury accommodations, affluent international travelers can relax during flights of up to 17 hours in private suites with amenities including wide-screen TVs, personal mini-bars and seats that fold down into beds, he said.
Rasmussen said the company's expansion has been aided by the availability of many skilled production workers locally, though the company has recruited nationally and internationally for engineers and designers.
He also credited the enthusiastic support of Mayor Bob Walkup and other local government officials for helping to streamline the permitting process.
Tucson-based Rio West Development & Construction is the general contractor on the project, designed by locally based Seaver Franks Architects.
Contact Assistant Business Editor David Wichner at [email protected] or 573-4181.
Read more: http://azstarnet.com/business/local/article_4f5562e1-ea1e-5670-b6e4-bc11f41d97c0.html#ixzz1V7mDlWxt