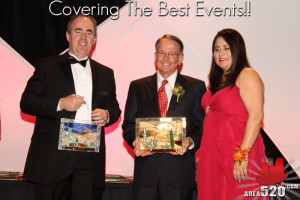 The Tucson Hispanic Chamber of Commerce announced the winners of the Bi-National Business Awards at the annual Noche de Exitos Gala held at Casino del Sol hotel on October 13th. C&W | PICOR President and CEO, Mike Hammond, was among the honorees, receiving the Bi-national Business Ambassador of the Year Award.
SOUTHERN ARIZONA CORPORATION OF THE YEAR:  Carondelet Health Network Businesses and individuals were honored for their service to the Hispanic market, their promotion of Mexican trade and/or the example they have set of the benefits of a bicultural, bilingual enterprise.
MEXICAN CORPORATION OF THE YEAR:  Molino La Fama, Hermosillo, Sonora, Mexico
Bi-NATIONAL BUSINESS AMBASSADOR AWARD:  Mike Hammond, President/Managing Shareholder, Cushman & Wakefield / PICOR
NEW MEMBER OF THE YEAR IMPACT AWARD:  Francisco Melero, President, Melero International
PUBLIC SERVANT AWARD – ARIZONA:  Chad Cummins, US Consulate in Nogales, Sonora
PUBLIC SERVANT OF THE YEAR – SONORA:  Antonio Proto, State of Sonora, Mexico
Also honored that evening were Alma Gallardo, the Owner of Arizona Bilingual Magazine as the 2012 Hispanic Business Woman of the Year award and Omar Mireles of HSL Properties as the the 2012 Hispanic Business Man of the Year award. The Tucson Hispanic Chamber was honored to present the 2012 Legacy Award to Joel Valdez and the 2012 La Estrella Award to Congresswoman Gabrielle Giffords.