INSIDE TUCSON BUSINESS
By: Roger Yohem
April 27, 2012
For a get-together with no set program, Mike Hammond runs a terrific business "roundtable." Once a year "or whenever," the president and CEO of PICOR Commercial Real Estate Services hosts about 25 business-related guests for lunch.
Picor's principals and brokers are required to attend and bring a guest. Hammond emcees the luncheon, telling everyone, "We are here to have an open dialogue on business. There is no specific agenda."
On Tuesday (April 24), a diverse mix of executives and managers gathered at the Arizona Inn. Among the organizations represented were Raytheon Missile Systems, Solon Corp., Merrill Lynch, Chase Bank, Arizona Commerce Authority, Metropolitan Pima Alliance, Diamond Ventures, University of Arizona, United Way of Tucson and Southern Arizona, Holualoa Companies, Miramonte Homes, Microbusiness Advancement Center, Tucson Mayor Jonathan Rothschild's office, and Inside Tucson Business.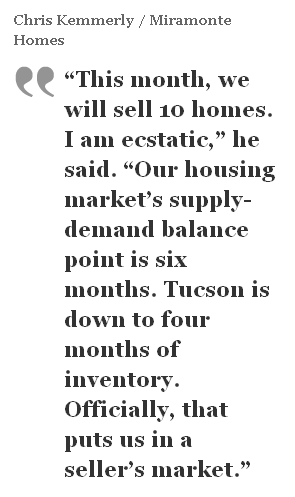 With a firm grasp of time, topics, and the talent in the room, Hammond led the group through a lively discussion across many subjects. Among the notable comments:
• Jay Meridew, vice president of finance for Solon, said China has over-produced solar modules to the point that "no one can make money manufacturing them." That has forced several foreign firms and Solon out of the production business.
Basically, the Chinese government is subsidizing solar's global growth and "eating the losses," he said.
The over-supply has driven down panel costs from about $1.70 to 90-cents per watt. In Tucson, that means it is now possible to get a six- or seven-year payback on residential solar without any electric company incentives or tax credits.
• Ken Chapa, business attraction manager for the Arizona Commerce Authority, talked about economic development. Due to rising fuel costs, "land and buildings near rail lines or spurs are popular. Most inquiries are coming from California and Texas," he said.
Typically, clients who contact him provide a list of specific needs, which are then distributed to applicable economic development groups for their review. The Arizona Commerce Authority does not try to steer businesses to any specific part of Arizona.
Locally, Tucson Regional Economic Opportunities "is an important partner. This is their back yard," he said.
• Chris Kemmerly, owner of Miramonte Homes, is feeling more positive about real estate. Coming out of the housing crash, three home closings a month was a volume that became a sales norm.
"This month, we will sell 10 homes. I am ecstatic," he said. "Our housing market's supply-demand balance point is six months. Tucson is down to four months of inventory. Officially, that puts us in a seller's market."
But rising materials prices and a chokehold on available land tempered his enthusiasm a bit. With material costs projected to increase 20 percent this year, "new home prices will spike."
• Very carefully, public policy vice president Priscilla Storm of Diamond Ventures explained a sensitive political issue. With local governments facing ongoing budget issues, several elected officials have called for more public-private partnerships to help fix some community problems.
"There are issues with public-private partnerships," she said. "Business has a major concern; will their private dollar investments be well-cared-for by government?"
Contact reporter Roger Yohem at [email protected] or (520) 295-4254.
More about PICOR