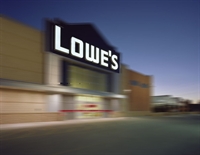 By Sasha M Pardy
COSTAR
October 5, 2009
But Most Remain Cautious, Awaiting Confimation of Shoppers Confidence and Spending Levels
At its annual investor and analyst conference last week, Lowe's announced its growth strategies for the year ahead.
During 2009, the home improvement retailer said it expects to spend $50 million to open 62 to 66 new stores, growing square footage by 4%. However, its forecasted 2010 openings are much lower — the retailer plans to spend $30 million opening 35 to 45 new stores, growing square footage by 2% to 2.5%. In comparison, Lowe's opened 120 stores in 2008 and had previously planned to open 75 to 85 new stores during 2009.
"Our growth will be fueled by prudent store expansion into underserved markets as well as the exploration of international opportunities," said Gregory Bridgeford, executive vice president of business development.
Robert A. Niblock, Lowe's chairman and CEO added that he believes the retailer is "under-stored" in a lot of metro markets, which he sees as a great opportunity for the company. "Land was very tough to come by previously and in these current economic times, we're finding more opportunities than we have in the past to put a Lowe's store in some of those metro markets," Niblock said.
When asked if they have witnessed big box retailers seizing opportunities to locate stores in areas they couldn't previously get into — particularly metro markets that prior to this recession had high barriers to entry, CoStar's retail roundup readers had mixed reactions.
"I think it's a great idea to bring bigger box retailers into these under served markets while they can get in," said Bill Valaika, owner of Newport Beach, CA-based ValCenters. "The absorption of those middle size boxes into a larger format will soak up some of the over supply of space, enabling the smaller retail space to become more valuable in the market place."
However, Don Shapiro, president and CEO of Rosemont, IL-based Foresite Realty Partners, said he hasn't seen much activity from large retailers using this time as an opportunity to expand. He believes most will "continue to cut costs and reduce expansion until they can see some confirmation that the US consumer has increased its spending habits."
Others have seen an uptick in interest from that market segment.
"Big Box tenants are now moving into locations where they were unacceptable at one time, or they are moving to locations where there is good demographics and the land is cheaper," said Ilene Richman of Palm Beach Gardens, FL-based Florida Investment & Land. "Since the prices of land have dropped drastically, the Big Box tenants can purchase land or rent at a much lower price, which is to their advantage."
Mindy Boehm, an associate director of retail brokerage at Cushman & Wakefield's Orlando, said the Orlando area generally has yet to see big box retailers sieze such opportunities. She cited the slew of boxes Albertson's vacated last year as an example. "We are just starting to see some hint of redevelopment with the closed Albertson's stores. it may be another year before we see any real turn around in those locations. Most of them are still empty and the centers are dead or dying."
Dave Williams, a director of land/investment at Atlanta-based Bryant Commercial, "What I have been seeing in vacated big box spaces are lower end purveyors going in at reduced rates necessitated by the loss of a higher end retailer. It may be the only way some developers/owners can sustain their project."
"Most of the big box players are being cautious in any expansions, even if new locations have become available at slightly reduced prices; because they likely have a store nearby and have to assess sales cannibalization risk," Williams added. "In today's market, the retailer's decision may mean opting to take a better location and then closing lower performing stores nearby."
Faith Hope Consolo, chairman of the retail leasing and sales division for Prudential Douglas Elliman in New York City, said big box retailers are definitely taking vacant space that has surfaced in New York City.
For example, "Nordstrom has been looking at New York City for year. It finally got the opportunity to enter the market in the vacated Virgin Megastore at Union Square. Virgin's pullout also allowed Forever 21 to place a flagship store at Times Square," said Consolo."Rent reductions are allowing a number of retailers to look at city locations that previously were not affordable. As other large boxes have failed (such as Circuit City), newer more successful large retailers can find attractive locations," continued Consolo. (For more on this trend, click here to read a recent CoStar article, "As Rents Fall on Prime Retail Streets, Retailers Seize Shopportunities")
As far as whether she believes it's a good idea to fit big box retailers into city spots, Consolo said it is if the retailer conforms to the needs of that dynamic market."In the city, Bed Bath & Beyond, TJ Maxx, Marshalls, Costco and other large box users have come up with configurations that allow them to serve people who will be taking a bus or taxi home instead of an SUV."
In Tucson, Greg Furrier, a partner with PICOR Commercial Real Estate, shared examples of retailers seizing opportunities.
"Ultimate Electronics signed a lease on an old Circuit City building and is about to sign another," said Furrier. "They are very inexpensive to retrofit. With Circuit City gone, Ultimate has a chance to compete with the only major chain in Tucson, Best Buy. Also, Sam Levitz Furnture leased a 220,000-square-foot former American Home Furniture retail store / warehouse location. The building was ready to move into, complete with fixtures and a $1.5 million racking system that were included at no cost to Sam Levitz."