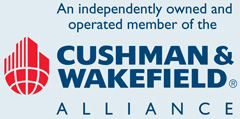 By Christie Smythe
ARIZONA DAILY STAR
January 4, 2008
Tucson, Arizona | Published: 01.04.2008
One of the world's biggest commercial-real-estate firms has forged an alliance with locally based PICOR Commercial Real Estate Services.
Under the agreement, effective next week, PICOR will handle Tucson business for New York-based Cushman & Wakefield, which has 192 offices in 58 countries.
PICOR will not change its name, but will identify itself as a member of the global firm's alliance, said David Lawton, executive managing director of Cushman & Wakefield.
The alliance arrangement is something Cushman & Wakefield uses in secondary cities, Lawton said. Lawton said Tucson's increasing population is a major attraction for his company in branching out to the area.
"Arizona is one of the glamour states right now, and you're experiencing great growth," he said.
Population growth, and hitting the million-person mark recently, has helped elevate Tucson in the eyes of major retailers and other companies, said Michael Hammond, president and CEO of PICOR. That, in turn, is making the city more attractive for large commercial-real-estate firms, he said.
"We feel like to stay competitive this is a move we have to make," he said about joining with Cushman & Wakefield, which has an office in Phoenix.
Hammond said his company interviewed several big firms that were interested in joining forces with PICOR, but he and his associates picked Cushman & Wakefield because it was "the strongest contender" — and best source of referrals.
Many large companies previously had a presence in Tucson, but left in the 1980s and 1990s to concentrate on larger cities, Hammond said. Hammond founded PICOR in 1985.
"They just all felt Tucson was not a major market," Hammond said. "When you hit a million people, the dynamics of your community changes."
Currently, the only other commercial-real-estate company in Tucson with a national or international presence is CB Richard Ellis, Hammond said.
Other than growth, other attractive qualities of Tucson's commercial market are its limited available property and relatively high rates of return, said Michael Gross, an office and investment-property specialist for Tucson Realty & Trust Co.
Investment returns on commercial properties are better in Tucson than in many major cities because rents are higher in comparison to property values and expenses, Gross said.
Gross said he expects to see more big commercial firms moving into Tucson over the next year or so to accommodate the influx of businesses and investors.
"Instead of just getting a piece of the action in Tucson, they want the whole thing, so that's why they're moving down," he said.
Hammond said there is a downside to having an alliance with a particular firm: Other large companies will likely take their referrals elsewhere. But Hammond said the benefits should outweigh the risks.
"We're taking some risk, but it's all based on the growth rate of Tucson and our belief that this market is going to be attracting global companies," he said.