By: Roger Yohem
INSIDE TUCSON BUSINESS
September 9, 2011
In marketing and sales, creativity can make a difference and lead to a successful business transaction. It's a competitive philosophy that has been embraced by PICOR Commercial Real Estate Services in the form of new technology: those quick response, or QR codes that can be scanned by software on smartphones.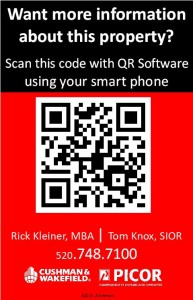 About two months ago, Picor began using the square-shaped codes tohelp sell and lease properties for clients. At about 70 different buildings, QR codes have been posted on windows and entryways so interested parties can quickly access details about the property on demand.
"We want to get detailed information into the hands of the consumer, in this case, a tenant, a prospective tenant, or a buyer themselves. Info on demand is the key, they can get it right there while they stand in front of the building," said Barbara Reuter, a principal at Picor.
"This is done to serve our clients better. Our goal is to get properties leased or sold," she added.
Using a smartphone, interested tenants or other brokers can scan the QR codes and access the floor plans, fact sheets, sales literature, lease rates and other details about the property.
Reuter characterized it as "the commercial equivalent of info tubes on residential listings. It's an electronic info tube that connects directly to the property listing. And people never get mad at us for being out of the paper flyers."
Reuter believes they are the first major commercial broker to use the technology in the Tucson market. Picor got the idea from peers in other markets. The QR code is simply printed on paper and affixed to a front window, lobby or a place with heavy walk-up traffic.
Each broker puts the signs up as they make their rounds, then test the QR code to make sure it works.
Picor's QR signs are in some 70 buildings and several buildings have multiple suites with individual listing information. Overall, Reuter estimated the codes are posted for 200 to 300 listings.
The technology allows Picor to track how many people are looking at their properties– an undisclosed competitive number for now – but not who is looking. And although not absolutely conclusive, she believes the QR technology helped broker Greg Furrier lease space in an eastside building.
Over time, Reuter hopes to have QR code signs posted in their entire portfolio. In addition to saving time for all parties, the process can let the prospect determine almost immediately if the facility meets their needs.
"Building owners love the idea, using technology in a very competitive market. Our only cost is paper and the time to put them up," Reuter said.
http://www.insidetucsonbusiness.com/construction_real_estate/picor-introduces-qr-codes-to-market-commercial-real-estate/article_d97cf4d4-da41-11e0-a051-001cc4c002e0.html