INSIDE TUCSON BUSINESS
BY: David Hatfield
December 14, 2012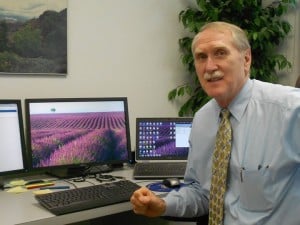 The Tucson region's economy is improving. Really. Not feeling it? Maybe next year.
That's the forecast from Marshall Vest, director of the Economic and Business Research Center for the University of Arizona's Eller College of Management.
The recovery, now in its fourth year, remains painfully slow by historic standards Vest told an audience of about 550 business leaders attending the UA's 32nd annual economic forecast Dec. 7 at the Westin La Paloma Resort and Spa.
As he said a year ago at the event, it will take until around 2015 before the damage from the recession will be repaired. The good news, he said, is that there appears to be some modest acceleration as 2012 comes to a close.
For the Tucson region, which has depended on the housing market to stimulate the economy, that industry is now beginning to show the first glimmers of renewed life.
After peaking at about $225,000 in 2006, median home prices in the Tucson region plummeted plummeted to about $120,000 in 2011 and bumped along around $125,000 until a steady increase began in mid-year and is now past $140,000.
Meanwhile the inventory of homes on the market is starting to get lean and new home construction permits are starting to tick upward.
Still though, Tucson remains hampered by slow growth, recovering just 11 percent of jobs that were lost in what's now called the Great Recession. Nationally, the U.S. has recovered almost half of the jobs that were lost since 2008.
Vest said that lack of mobility remains a major factor in Tucson's recovery. People who want to move here aren't able to do so because they can't sell their houses in other parts of the country.
Consumers are spending money, though there have been some recent signs showing slower retail sales in recent months.
October year-over-year retail sales in the Tucson region were up 1.8 percent. Restaurant and bar sales are up a robust 7.2. percent. Gasoline sales were down 0.9 percent but Vest said that also had to do with the price of gas dropping.
Going in to 2013, Vest painted three potential scenarios for Tucson's job growth.
The most pessimistic would see about 5,000 jobs added over the next three years. A middle ground would be about 15,000 jobs and the most optimistic projection is for about 35,000 new jobs.
At the annual economic outlook forecast, Vest has typically offered statistics focusing on the Tucson region and comparing them to Phoenix, statewide and U.S. statistics.
At one point in this year's presentation, he suggested that Tucson be compared with Phoenix as part of Arizona's megapolitan region called the Sun Corridor.
"We really are dependent on each other," Vest said, a remark that drew groans from the audience.
Contact reproter David Hatfield at [email protected] or (520) 295-4237.