INSIDE TUCSON BUSINESS
By: Roger Yohem
June 15, 2012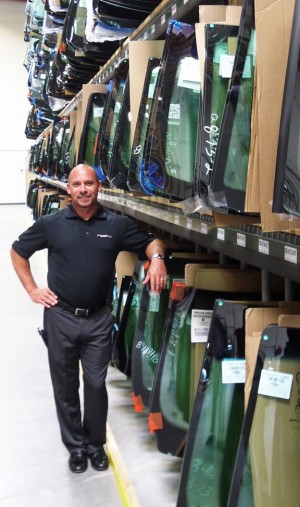 When New York-based commercial real estate developer Rockefeller Group entered the Tucson market in 2010, its leaders didn't flinch at the flaws in their location. They picked the submarket surrounding Tucson International Airport, a sector with the highest vacancy rates in the region.
With 1.2 million square feet of space, the airport's industrial zone was 15.6 percent vacant at the end of 2011, according to market research data from CoStar Group. That means about 183,000 square feet of space was already empty.
Undaunted, the Rockefeller Group confidently moved forward to develop a massive 410,000 square foot industrial complex.
Overall, the company is developing three Class A buildings. Each features high-clearance freight doors, loading docks and heavy-duty 6-inch slabs. Building No. 2, at 6855 S. Lisa Frank Ave., already has two of its four suites rented.
"This is a great location for Rockefeller Group's first project in Tucson. Our focus is quality, facilities not necessarily already in the market. We also do things a bit different than other developers," said Mark Singerman, Arizona director for the Rockefeller Group.
The $10 million project is the first LEED-certified industrial building in Southern Arizona. LEED refers to the Leadership in Energy and Environmental Design standards set by the U.S. Green Building Council.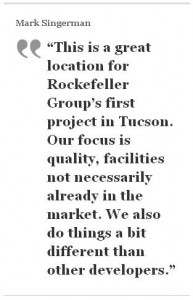 Towne Air Freight and Safelite AutoGlass have leased about half of the 113,500 square feet in Building 2. For Safelite, the site is the auto glass company's new operations hub for Southern Arizona. It moved from facilities near West Grant Road and Interstate 10.
"It's hard to find good, first-class warehouse space. A lot of available places are worn, outdated," said John Grimaldi, general manager for Safelite. "We wanted a more central location to do our wholesale and retail, and space to expand later."
With the move Safelite doubled in size to 33,500 square feet and now has 12,000 windshields racked in inventory. Total capacity is 250,000 units. Along with the move, the company created five more permanent jobs to 35. At full operation, Grimaldi will have 40 employees.
The building's envelope, reflective roof, dual-glazed glass, heating/cooling system, and controlled lighting optimize energy efficiency. Total energy savings is estimated to be 40 percent compared to a standard building design, Singerman said.
Contact reporter Roger Yohem at [email protected]or (520) 295-4254.
Editor's Note: Click here for information about space available at Rockefeller Group's Tucson industrial project or contact PICOR's Rob Glaser.