INSIDE TUCSON BUSINESS
BY: Patrick McNamara
April 19, 2013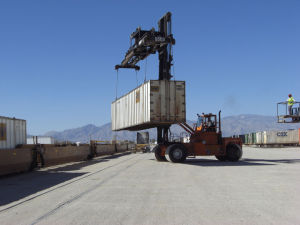 With a multi-million dollar investment in infrastructure complete, the Port of Tucson is setting out to sea on a new era.
Patrick McNamaraThe multi-modal shipping facility on the southeast side will start receiving and shipping international containers by the end of this month.
"This is a true inland port," said Alan Levin, who along with his family owns the Port of Tucson, on the north side of Interstate 10 at Kolb Road.
The Port of Tucson expansion includes the addition of miles of track to facilitate the loading and unloading of trains pulling more than 100 freight cars.
"We've got 10 miles of track here," Levin said.
Levin and son Mike said the advent of international shipping at the facility would not only benefit their company and the tenant companies at Port of Tucson warehouses, but would create more opportunities for the regional economy.
"What we have here is really a regional asset," Mike Levin said.
With international shipping, containers can be unloaded at the port in Long Beach, Calif., put directly on train cars and unloaded for warehousing and distribution at the Port of Tucson.
"None of these containers will ever be on asphalt," Alan Levin said, meaning that the goods being transported won't have to move by truck before getting to Port of Tucson.
Because the Port of Tucson can now receive and ship international containers, the importance for the facility and the region as a logistics hub will grow, the Levins said.
"We have a vision for filling this up with companies that work in logistics," Mike Levin said.
An additional way that the Levins hope to facilitate more international freightage business for their Port of Tucson and the region involves working with the Arizona Department of Transportation.
Port of Tucson is part of an active the Foreign Trade Zone that facilitates the export of produce grown in Mexico and other exports that get transported though the ports of entry in Nogales.
The Levins want the Arizona Department of Transportation (ADOT) to agree to allow heavier containers on highways when en route to a shipping facility such as the Port of Tucson.
Ship-bound containers can carry a heavier payload than domestic containers, said Stefan Baumann, director of business development for Port of Tucson.
"The potential is huge," Baumann said.
An area that could benefit from that is the fresh produce industry in Nogales.
"We support the concept," said Lance Jungmeyer, president of Nogales-based Fresh Produce Association of the Americas.
Jungmeyer said Mexican-grown kabocha squash are a popular grocery item in Japan. If an international-sized container of the squash was packed in Mexico it could feasibly be shipped for less cost through the Port of Tucson if the weight exception was implemented.
"Any effort that can reduce the cost would be significantly beneficial to the produce industry," he said.
Under current conditions, produce might be packed in one size container in Mexico, repacked into another size to be trucked to a rail hub where it would be stacked on a railcar then repacked into another size container after reaching the shipyard in Long Beach.
All of that handling costs time and money.
"That's one of the benefits I see," Jungmeyer said, adding that distributors of other produce items also could gain from a streamlined distribution process.
Tucson Regional Economic Opportunities (TREO) is also on board.
"It means that there's more capacity and connectivity so that more goods can move through the region," said Laura Shaw, senior vice president of marketing and communications for TREO.
She said said TREO plans to work with the Port of Tucson on the proposal and facilitate talks with ADOT.
The Port of Tucson consists of 264 acres with more than 2 million square feet of warehouse and industrial space.
Currently, there are 13 tenants at the property.
In addition to the developed areas, the Levins own acreage north and east of the Port of Tucson. Those properties could be developed for more logistics-related companies, warehousing, industrial or manufacturing.
"It could be used for a variety of things," Mike Levin said.
Alan Levin started purchasing property around the current Port in the 1990s. The Port of Tucson began operations in 2004.
(Changes to the original story were made in this version.)
Contact reporter Patrick McNamara at [email protected] or (520) 295-4259.