Source: Cushman & Wakefield Research, The Conference Board. Only markets tracked by Cushman & Wakefield offices are included in this analysis.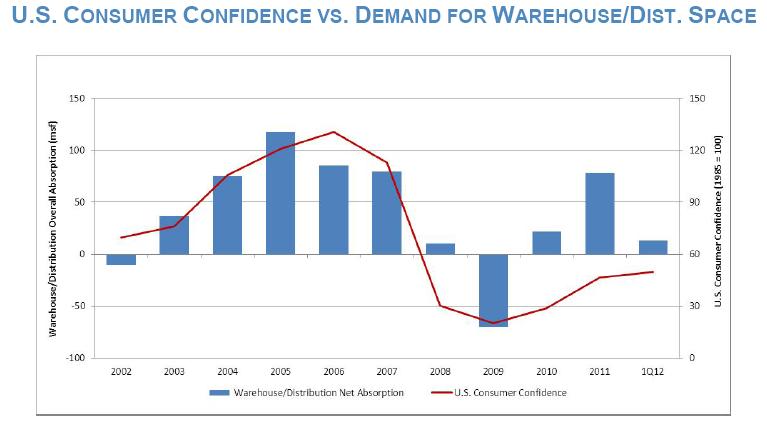 A sustained increase in consumer spending helped drive U.S. industrial users to absorb 13.6 million square feet of warehouse/distribution space in the first quarter of 2012, the market's highest first‐quarter total since 2005.
The increase in spending is reflective of an environment in which consumers are proving more upbeat about their personal finances. The Conference Board's measure of present conditions – a monthly index calculated on the basis of a household survey of consumers' opinions on the current health of the economy  ‐ increased to 51.4 in April, its highest level since September 2008. The metric had fallen as low as 21.1 in October 2009.
While headwinds persist, the readings were critically accompanied by a 0.4% March increase in incomes, the most in three months as evidence of a sustainable rebound gathered.
With all of the warehouse/distribution occupancy surrendered during the recession reclaimed by year‐end 2011, the segment enters the remainder of 2012 ready to transition into the next phase of recovery.
[email protected]  (407)541‐4417